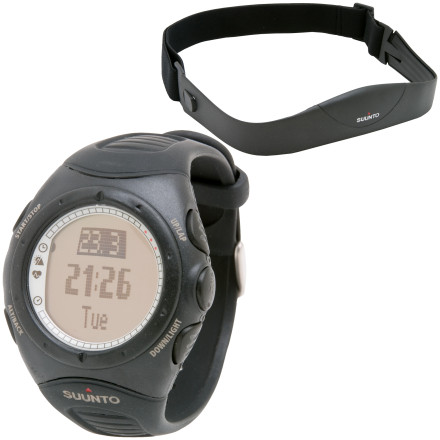 Detail Images
The Suunto T6 Watch's combination of heart rate monitor and altimeter features makes it a top pick of climbers, skiers, personal trainers, and serious endurance athletes. Health Magazine even gave it their Excellence in Fitness Award. This incredibly advanced watch tracks your real-time and average heart rate, altitude, ascent and descent rate, and interval timing. Plug the T6 Watch into your computer with the included USB cable, and the included software helps you analyze your workout or ski day. Don't let all the features scare you. The cell phone style display makes the T6 easy to use and understand. Suunto made the T6 watch for serious athletes who want accurate data for both training and event day.
Share your thoughts
What do you think of the
Suunto
T6 Watch
? Share a...
I used this watch for just over 2 years. It never failed me. I wore it everyday for work and play. I used it in some pretty harsh conditions. I upgraded to the new model T6c.
Great When It's All Working
i've used this watch the most. it's heart rate monitor works great. it's altimeter has been the closest to right on that i've ever used. paired with the foot pod it was astonishingly accurate at calculating the distance i've run. the problem with their first design is that you will lose the foot pod. no exceptions, at some point the foot pod which is attached via plastic tension will fly off your foot. the bike pod was equally as accurate. overall a great watch. the software kind of sucks and after a windows xp hotfix it stopped working altogether. the firmware was missing a few features like a delete all logs on the watch, etc... but just minor things. overall a great watch.

it gets more complicated when you try and use the footpod and bike pod. it seems as though if you have the whole set, something is always not working right.

also of concern i had to bring a couple of t6's back because of "foggy screen" as condensation would somehow get under the glass and either kill the display or just make it so you couldn't read it.. yeah not good.
Wrote a review raving about this watch and I do like it. However, mine fogged over yesterday and the moisture hasn't cleared! The watch is still working but I can't read it because the inside of the face is completely fogged over. I realize the weather's a changing and its gettin colder on my morning runs but what's the point in spending $400 on a watch that can't handle temp fluctuations and stay moisture free? I bought the watch in May so it shouldn't be a gasket issue yet, haven't changed the battery, and I don't swim so not sure how the moisture got in. I do wear it in the shower and stuff but that shouldn't be a problem. I'm sending mine back
Is this software compatible with a Mac?
Is this software compatible with a Mac?
it's not mac compatible. and honestly it's not that great of software either. Since I don't have a coach this software is a huge asset to my training.
Does the T6 have a plastic face or...
Does the T6 have a plastic face or glass/crystal? I've been unhappy with how quick the t3 plastic face gets scratched up.
Mineral Glass face on the T6 (also T6c). tougher than the T3 face. You can get face repair stuff called PolyWatch that helps fill scratches on the other T-series watches.
Very good watch, crappy interface cable.
Great watch. After a year, I've never had a single problem with any aspect of the watch. The major thing I want to mention is the durability of the face. I usually beat the hell out of my watches and can't read them after 6 months and I am constantly amazed with the direct hits this watch-face takes yet still resists scratching. The only thing I was pissed about was the serial port on the PC interface cable. A little something called USB Suunto.... now I gotta break out the Commodore 64 to upload my training data (or buy an adapter).
Everything you need to know
This is more then a watch. Although it took a little time to figure out how to operate and use all the features, I have found it to be durable yet comfortable. I find it to be very motivating, as there are no secretes as to how hard I am really working, how long I have been working, and how far I have gone... Uploading data is easy and I can create graphs and track my training progress. Great investment into your training program or just an interesting toy to play with.
Will this heart rate monitor work in the...
Will this heart rate monitor work in the water? As in, can I use this in all stages of a triathlon?
yeah i ran into issues just keeping the strap on correctly while i was swimming. i'd say it's not going to work for swimming heart rate.
Dont' bother with the t4, t1 or t3 for that matter...I broke two before switching to a t6. The t6 has held up great...lots of use. The computer software that comes with the t6 allows you to see your entire workout, not just the summary, really a great training tool! I had a GPS pod but it broke after only a few uses too. Suunto seems to be going more for design lately than durability or performance...too bad.
HR belt had trouble synching to T6 watch
The T6 had some difficulties finding the HR belt. When it synched the T6 was great.
I'm quite pleased with the T6. It's less bulky than the Suunto vector altimeter and you get more functionality. I've found the interface to be user friendly and easy to adjust. If you need a this type of functionality then you won't be disappointed. The software that comes with is decent although I'd love to see Suunto come up with an online application to house my workout data.
T6 Suunto Heart Rate Monitor
Simply put this is a quality piece of gear. I have been searching for a good HRM for about a month. T6 was well worth the wait. Pricey but only for the serious athlete.
From The Heart ( Hot hot heat)
I bought this sleek watch for my dad a couple months ago. He has lost 15 lbs using the heart rate monitor. He LOVES it! If you are looking for a suave watch with functionality, check this out. You heart will thank you.
Not quite as expected....
After reading the scientific background and articles on which the software is based (FirstBeat) one can find that the T6 apparently does not measure 7 variables, but rather measures heart rate, and estimates the remaining variables. EPOC is a real "factor" in training, but again is "estimated," and not calculated. FirstBeat speculates that their software does this, and Suunto agrees apparently. The system works "OK," but could use cadence, power and other features on the bike. As a heart rate monitor alone, I have never had a problem. No crosstalk, etc. The T6, after reading the literature, does not seem to do what I expected based on all the adds.
Here's what's great about it: the connection to the software- from a USB cable- is solid. The watch is ligher and less clunky and smaller than previous wristop HRM/altimeters. It is very easy to operate. The software gives pretty good information about some physiological parameters not found in other software. What's bad: I wish you could see rate of ascent/descent, altitude, and HR, all on the same screen- something that some other Suunto and Polar watches have. Also, the first version of the software seems better, less clunky, than the second version. I downloaded the second version from the Suunto site but it is buggy (as of 7/17/06). For training it is excellent- for mountaineering or other outdoor applications it is good, but for both (flatlander training and mountain use) it is not as good as the Polar XN500. The problem with the XN500 is that the IR connection to the computer is clunky, whereas the Suunto connection is rock solid.
This is a solid piece of gear in my book. Here are a few notes.

Some have mentioned issues with the HRM. First off, the chest strap is definitely comfortable. It seems that the center section of the HRM strap (where the battery is located) is not as flexible as some other manufactures. So if you have a boney/protruding sternum it causes the electrodes to be further away from your chest which could be a reason for intermittent data. This is pure speculation on my part from observing how the chest strap fits on a friend. I have had no major issues. Although I do try to sleep with it occasionally and have notice that there are occasional drop outs during the course of a night. Given that my body is not sweating and the electrodes need to be moist/wet for good contact I tried using some Vaseline and this seemed to stop the drop outs.

I purchased the foot pod (see review under product) as well as the bike pod with the unit and everything is functioning spot on. A Suunto rep told me that they're working on a cadence option as well.

I'm still investigating the software a bit more in terms of what specific graphs mean and how to make them useful. While initially it's great to see workout data on the screen it takes some time to collect and observe the data and understand what's going on from that perspective. So maybe I'll write a review in a few months with more specifics pertaining to the software.

Thus far I'm stoked with the new setup.
I am really happy with my T6. It looks and performs great.
Top-of-the-line physiologic monitoring
I purchased a T6 with the optional foot pod (to measure speed while running).

The system takes quite a bit of getting used to. The menu system on the watch is very different to most sport watches, but pretty easy once you've got used to it. The analysis software is also quite idiosyncratic: for example, it took a phone call to Suunto tech support to explain how to download the data from the watch.

However, once I had become familiar with it, I found that the system worked very well indeed. Unlike another reviewer here, I've had absolutely no problems with the HRM strap (whereas I've had mixed luck with Polar and Timex monitors). And the foot pod works amazingly well too: I just completed a marathon wearing it, and without any re-calibration it showed my total distance as 26.3 miles. I also found the Suunto tech support to be excellent.

To summarize, the device is very expensive; the software is rough around the edges; and the watch's user-interface could do with some fine-tuning too. But I still give the product five stars, because the system provides amazingly detailed performance data that you just can't get anywhere else.

Not only does it continuously log your heart-rate and speed (with the foot pod). But it also records your altitude throughout the workout, your breathing-rate, your power output/calorie consumption, and calculates other performance metrics like EPOC. (And allows you to export them.)

This is the closest thing you can get to taking a complete exercise physiology lab with you when you run.
Training lab at the tip of your fingers
You can't ask for more. The real deal with this wrist-top computer is it capability to measure other physiological parameters that can't be measured by competitor brands. The software isn't dumb-proof but additional research will give you the tools for understanding the data presented and be more conscious when planning your training. The wrist-top computer only catches heart rate and based on that information, the other physiological parameters are calculated. I tried to find if was possible to use other wrist-top to get the HR info and use Suunto T6 software to crunch the data. Seems that T6 is the only wrist-top in the market that records the information in intervals small enough to extrapolate the rest of the parameters (EPOC, VO2 max, etc.) Don't get overwhelmed by the information you will get from the T6, but don't expect it to be easy for interpretation.
More than I expected, easy, very easy to use. Know I uderstand why it was named best outdoor gear of 2004