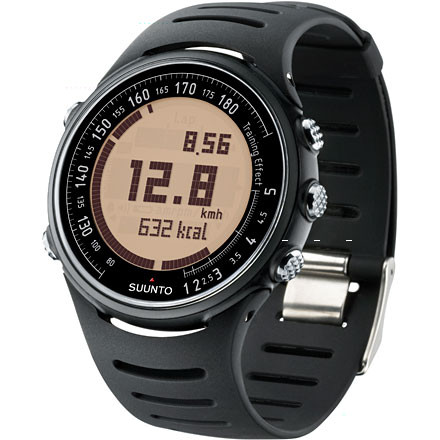 Detail Images
If you don't need a million bells and whistles on your heart rate monitor, this is an excellent choice. It works very well and is super easy to use.
1) Is this the 2008 or 2007 model that is...
1) Is this the 2008 or 2007 model that is pictured?2) Are you an authorized Suunto retailer? 3) Do you carry the foot pod (2008 model)?Thanks in advance.
First impressions more to come
I bought the T3 after reading many reviews stating it was the best computer on the market. When the watch is working it has many features that I wanted: heart rate, training zones, intervals, modular training options, ANT for crosstalk with future training aids. I've had the wrist computer now for 1.5 months and it has locked up on me 3 times. The only way to unlock the watch is to take out the battery. The watch is on its way now to the Suunto factory for warranty repair. Customer service with Suunto was expedient and since I filled out the warranty info prior to issues, the RMA experience was quick and painless. I'll write another review after getting the watch back from warranty service and two months of testing. I don't want to slam a product from one bad experience.
RETURNED: Suunto t3 Heart Rate Monitor Watch Orange Webbing
I think this watch is relatively cheap. My battery went dead after less than 3 months. The Orange band was fraying and "slipped" thru the fasteners regularly.
I went with Suunto b/c it got good reviews, and their higher end productions might be fine, but this watch "felt" Cheap. I upgraded for a few more dollars to a Polar AXN310. It's an "Altimeter" but is also an HR monitor. This watch is solid, purchased the 310 and got the 500 for father. He loves it.
I'm really happy with my new T3 HR Monitor, its super easy to use and fantastic that it can be paired with various PODs... I'll definitely be buying a few of those in the near future. Great value for money.
I've ordered a few different HRMs, and this is the one I'll keep. Large, easy to read display, easy set-up, easy menu system, dual time. Has everything I wanted in an HRM, and nothing added (previously had the X3HR - useless temp/altitude gauges, T1, and looked at Timex, Polar, etc). Very pleased with this watch. And the orange strap isn't as ugly as I'd feared. :)
Best HR monitor/Training watch ever? YES!
I've had this watch for about 2 months now, and I wear it everyday. I workout 5-6 days a week, trail running, hiking, and working out at the gym. I have seen a HUGE bump up in motivation, and I give credit to the T3. The Training Effect feature is my favorite, so I know how intense my workout is on a scale of 1-5. Having a number to shoot for when working out is great, and really pushes me to go a little harder. The watch has so many cool features, I can't imagine how cool the higher end T6 is! I recommend the Suunto T3 to everyone who wants a HR monitor, regardless of how often you'd use it.
, ☃bcs_badge_alumni_label☃
So far so good
I got this watch back at the start of April. Right out of the box it was very simple to set up and get all of my personal information into the watch to set it up for my workouts.
The buttons were a bit confusing to cycle through at first, but the directions are very simple and easy to understand and I can cycle through the programs on the watch with ease.
The heart rate strap is comfortable and very easy to size to fit correctly. I have a 42 inch chest and it fits fine and there is prob. 3 more inches to expand it. Just don't forget to wet the inside of the monitor with some water before you work out.
I would say that the best part of this watch is the motivation factor. I know that there is an average heart rate I want to keep during a workout and I want to burn more calories than I take in during the day. This watch keeps you motivated during your workout to hit those numbers and keeps track of them for you to reference. It has been great in revitalizing my workouts and getting me back to the gym more often.
The Suunto t3 has been the biggest letdown. I bought it to use as a heart rate monitor when I run and swim. When the watch is under water, it does not connect to the heart-rate band so there is no tracking of your heart-rate during swimming. Also, the face of the watch is incredibly cheap plastic. I got some paint on the face and used a rough sponge to get it off...now the face of the watch is completely scratched up and hard to read. Don't understand why the face is so cheap on a $150 watch.
Suunto heart rate monitor watch
I have had it about 1 month , and I use the T3 for bicycling and long distances touring because Suunto T3 are accurate like you would not believe . I did find it at the beginning just little complicated, but you will find all the functions really handy, and over a period of time you will use it with no problem at all . I do recommend for cyclist the neopren handlebar adaptor. Only thing I do not like is this plastic on it because is to eazy to make scratches . But for the price, T3 are not bad at all and I am happy with it for my use . I will write another review after about 1/2 year because I've been using Suunto T3 now for only about 1 month, so there was not enough time for a real test .