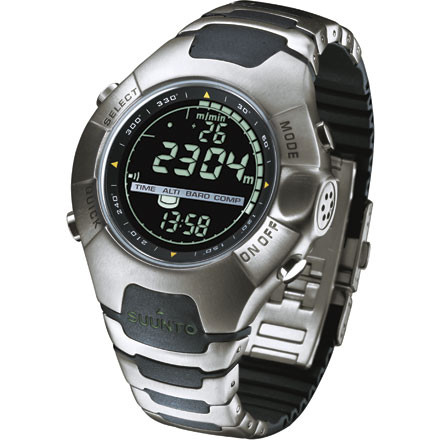 Detail Images
Whether you're measuring your party's elevation on Denali or just trying to figure out how high your boring office meeting is taking place above sea level, the Suunto Observer Altimeter Watch is the tool you need to locate yourself vertically.
Highly sophisticated altimeter provides detailed data on your current elevation—usable up to 29,500 feet
Keep track of your total elevation gained and lost over time
Compass feature allows you to set your bearing in degrees, track that bearing over time, and adjust for local declination
Track temperature range from -5 to +140 degrees F (-20 - +60C)
Additional features include 4 day barometer memory, weather trend indicator, chronograph, and multiple alarm functions
Alti-Baro Lock feature allows you to switch between altimeter and weather station features, effectively locking in your readings for each without the watch getting confused as to whether you're measuring altitude or barometric pressure
Water resistant to 100m, so no need to take it off for your post-climb dip in the river
Stylish design and comfortable strap means it'll look as good next to a business suit as it does over softshell
Totally crap watch
Gender:

Male

Familiarity:

I've put it through the wringer
Mode button sticked, Suunto representative never fixed the issue, changed like 5 bands so far, backlight of.

Never buy a Suunto, they're assembling this crap all over China. Oh, and "never press the button in the shower" ...
Great Watch Horrible Band
I have owned 2 observers and i will not buy another one. The first developed the button problem detailed by many below, and the second is still going strong after 1.5 years, but I have been through 5 bands now (my new one broke yesterday). For the money, it's rediculous that the bands are so shoddy! Shame on Sunto. Next watch will be from a different company'
Great watch, poor (SR) strap
Like so many other reviewers, the SR-strap quit on me as well. Mine quit at about the year and a half mark usual casual wear / tear. The watch, itself, is in great shape and still works flawlessly. Which begs the question as to why Suunto equipped such a durable, reliable, watch with such an unreliable strap? I have no problem recommending this watch, but only if you're willing to set aside some cash for near-future strap replacement(s).
I have had this watch since 2002. It has worked very well on the ski slopes and snorkeling. I have had one band break when I caught it on a screw moving furniture. Otherwise the band has worked well for me. The temperature is usually reads warmer than the real temperature but I think that is because it is on my wrist. The compass is relatively accurate, not as accurate as a real compass, but close. We checked it with many Boy Scout outings.
Over all I have been very happy with this watch. I only wish the company would be more mac friendly.
Just read the reviews on this watch and I'm kinda surprised. I bought it five or six years ago and haven't had to change the band yet. Changed the battery a couple of times and the slot in the back of the watch is kinda chewed up. While I've worn it outdoors/ocean, it hasn't seen a lot of that kind of use, so maybe that's why my band hasn't deteriorated. I've found the altimeter to be kinda wonky; there have been times when I'm standing at sea level and my altitude can vary widely. Manually setting the altitude to sea level helps for a little bit.
I don't find resetting the watch to be at all intuitive; I'm going to use the altimeter tracking function this weekend and I need to reread the directions on how to do it.
I find it comfortable and light.
I bought it on close out for cheap, don't think I would pay the asking price for it.
i have spent a small fortune on straps like so many others over the last few years.

Now the buttons are not functioning and when I sent it back to Suunto for repair I was shocked to find they do not repair the watches or provide parts for watchmakers to repair them. if it is on warranty and you have a problem they just send you a new one if not throw it away.

considering a Soma by SEiko.
It's a nice watch but the time, etc. doesn't...
It's a nice watch but the time, etc. doesn't display very clearly, it's very dim.

Does this mean I need a new battery?
Hey David, yeah its possible... if you press the light does the display dim even more? This is a good indicator that the battery needs replaced... also check your display brightness, maybe it needs adjustment...
Great design, poor quality
Have had the Observer for about seven years, and have replaced the band three times. It just broke again, and I am in the market for a new watch. For the $ I spent on bands for this thing, I could have had another watch.

Typical Suunto issues with a quiet alarm. Switching the battery a few times has stripped the plastic backing coin slot. The computer functions are user friendly.

I love the design aesthetic, too bad the quality is cheap and integrity is poor.
I love this watch...for two years I had...
I love this watch...for two years I had it on daily taking it off only for sleeping (sometimes) including two expedition Adventure Races.
Unfortunately, the wrist band (stailess stl model) broke and I cannot find a supplier of it in the Caribbean. Would backcountry have the part? Could I get another web site where to buy the wrist band? Much appreciated!
Did you buy it on backcountry?? If so you can just return it and get a new one free of charge
Good dependable watch - would be better if the strap problem could get sorted out and if you could interface with a PC.
Backcountry: stop selling this watch backcountry; Consumer: DO NOT BUY IT
I'm on my fourth band in as many years and have spent several hours and over $200 just trying to keep this watch on my wrist. I would say something nice about the watch component but mine is in a desk drawer with busted band, and my blackberry is now my watch. Sad that Suunto and resellers, respectable ones like Backcountry, continue to allow this watch into the market. Truly a disappointing product that should die swiftly in a transparent capitalist market. DO NOT BUY IT, unless someone comes up with a decent replacement band.
I've had this Suunto for about 5 years and I continue to wear it everyday. The altimeter works very well and has come in handy many times on off-trail back packing trips. I have also received many compliments on the look of the watch. The compass works great, when calibrated. The only problem is that it needs to be recalibrated every now and then, but the procedure only takes about 5 seconds, so its not a big deal. I would rather have a watch that I personally know is calibrated than rely on one while in the wilderness that is only factory calibrated.
I did have to change the watch band after about 4 years, but I do wear it everyday, so I expected that much.
One of my first altimeter watches.where my obsession started keeping track of my vertical climbing.It's solid just maybe a little to heavy, carrying around on your wrist all day.
A great watch, no doubt.
But....it has its weak points:
1. The compass....is sometimes very very difficult to callibrate. Especially when you forgot it for some weeks.
(it has to be callibrated otherwise it's useless)
2. The strap. As mentioned by many others. I have the strap with the metal pieces. After 4 years it broke. A new one is pretty expensive.
3. This is the very bad part of the story: yesterday the mode button sticks. So i've only one function left: time.....
I have mine 5 years. This also happened to others.

So good watch...but it is has definitely it's weak points.
I have this watch in steel, cheapest version. I got it in 2003 and have gone through one band. It has been one of my most relied upon backcountry tools. This watch has been through hell, the brushed steel is almost polished away, and the crystal is hardly scratched. Best deal I ever got in a watch. I hope I never have to buy another one, I like this one so much.
I absolutely love my Suunto. You can buy the metal band so it looks good in nice clothes, and then easily throw the standard band for using in the backcountry, etc. I must say I don't use the compass much, but I do like the barometer and altimeter. Altimeter does need a lot of re-calibrating if you desire exact readings, but just set it at the start of the day and it will calculate your ascents and descents very accurately plus the # of laps. Barometer is nice since it has arrows of the main time screen that let you know what direction the pressure is going and how extreme. Temp reading is inaccurate any time it is on your wrist for obvious readings, but will read properly after a minute or two or standing alone. I highly reccomend this watch for anyone who wants a great performing watch for the backcountry and the office!
I have had this watch for 4 years now, and about every year plan on spending 100 bucks on a new band. For a $$$ watch! The band just breaks at the clasp. I cannot find a replacement band other than Suunto. So spend $400 buck on the watch and plan to spend $400 bucks on bands for 4 years, your cost will be $800, or $200 per year.
I purchased my Observer in Feb 2007 and have been very pleased overall. The ABC are handy and readily available, though I have noticed the exact values tend to be off by up to 10% against known markers. It is not overwhelming is size or color, so I can wear it to business meetings without recieving strange looks from desk-jockies with the figure of Santa Clause. I have the titanium strap and since I trimmed it to fit my wrist, I have never had a problem since.

However, I do have a complaint about the compass. I understand that each time the battery is replaced, the compass needs to be reset. Unfortunately, I have had to reset it about 10 times, and I have only changed the battery three times. Test your compass before departing on a trip. Checking North doesn't do it. Twice, my North was spot on, East was very close, as was South. West should have ben 270, but instead was around 330. The last 90 degrees read as only 30. Check it prior to departure, but don't trust it beyond a general guide. Pack a standard compass as well. Also, the instructions for resetting the compass are not intuitive, so you may wish to bring a copy of the instructions if you intend on using it in the BC.
What a screw job, a rubber replacement band for the observer for $50.00. I had to replace my band now four times in approx 4 years, for this price, this watch should only be sold in Beverly Hills. I like the time piece, but come on Suunto, who is screwing the customer. This is the worst wrist band I have ever had with any watch I have owned. Well, looks like back to the good ole Timex!!!