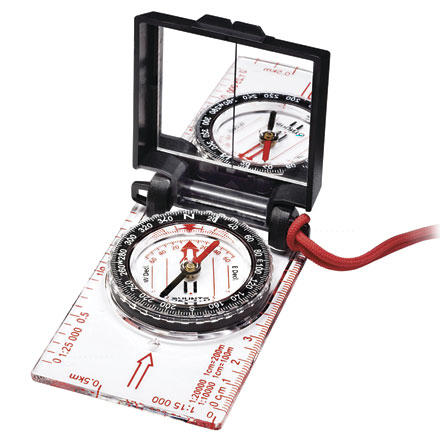 The Suunto MCA-D Challenger Compass features a fixed declination scale and high-quality mirror. The MCA-D Challenger is ideal for surveyors, rescue patrols, and any hiker who appreciates accurate, reliable measurements. The mirror lid locks open at various angles (60 degrees, 120 degrees, and 180 degrees) and remains securely shut when the lid is closed. A sighting notch provides optimal accuracy. The large mirror shows the whole compass capsule as well as the sighting line. This compass works anywhere in the Northern Hemisphere and even into northern reaches of the Southern Hemisphere.
I feel this is about as basic of a compass one should get for any outdoor expeditions. It gets the job done, has everything you probably need, without any fancy frills.
It gets the job done. Points to North, adjustable declination, line of sight, mirror.
Perfect compass, has all the features most will ever need or use.
Simple design, all you need to navigate
After 20 something years in the infantry, I was used to the metal lensatic compasses. This one is much lighter, very tough, and has all you need for navigation.
I've used this compass for years.

Durable, easy to read and adjust.
I used one of these for several years in the army. Never had any complaints about it. Lightweight and simple to use. I always did the declination in my head. After over a decade of service it developed a leak. I replaced it with another Suunto.
this compass has been through many adventures and adventure races with me. it's great and always works. however if you have to change the declination frequently the little screw will get stripped. i have used it for years but i can no longer change the declination on mine. that sucks, but i think it's common.
Decent basic compass and the mirror sighting is a plus for a value compass.
the ad for The Suunto MCA-D Challenger...
the ad for The Suunto MCA-D Challenger Compass says it has a fixed declination scale.

Just what does that mean? Does it have a declination adjustment or not?
Best Answer
I just got this compass for my Dad (Father's Day) and the answer is no, this compass doesn't have an adjustable declination scale. The declination is fixed on the scale, doesn't move, so you just have to subtract or add the declination that you read on the map from your measurements. Personally I'd recommend the Silva Ranger compass or another with adjustable declination.