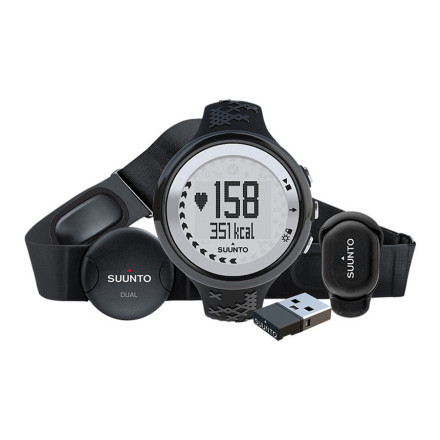 Whether you're looking to crush last year's 10K time or get back into shape after spending the winter in front of a computer, training is a whole lot easier now that you're tracking your workout data with the Suunto Women's M5 Running Pack. This package features the Suunto M5 Wrist Top Computer for easy reference, a Suunto Dual Comfort Monitor Belt to track your heart rate, and a Foot POD Mini to track your speed and distance. Also included is the Suunto Movestick, which allows you to transfer your workout data to your computer for a clearer view of training goals and progress.
Included Suunto Dual Comfort Belt tracks your heart rate in real time and is compatible with most gym cardio equipment (Analog Coded and ANT Coded)
Included Suunto Foot POD Mini attaches to your shoe and provides detailed information regarding your speed and distance traveled
Included Suunto Movestick allows effortless transfer of workout data and easy downloading of training programs from Movescount.com
Real-time intensity guidance during workout helps you set a productive pace
Motivational feedback messages to keep you on track during training, and the watch even gives you suggestions for your recovery and next workout
Fitness test function helps you set your training goals
Watch speaks nine languages: English, French, Spanish, Italian, German, Dutch, Portuguese, Swedish and Finnish
What do you think about this product?
Have questions about this product?
I purchased this watch for my mom who wears a heart rate monitor every day. This watch is the the best set up on the market. The reason why she wanted this watch compared to the other packages was because it had the movestick and for POD. The foot POD is perfect for calculating mileage and has kept up with her fast pace daily habit. The movestick has documented everything for her on her laptop. it's pretty nice if your training or even loosing weight.

I'm giving it a 4 star review because she initially wanted to throw it against a wall because it wasn't syncing... but then after doing a hard reset on it - now loves it!