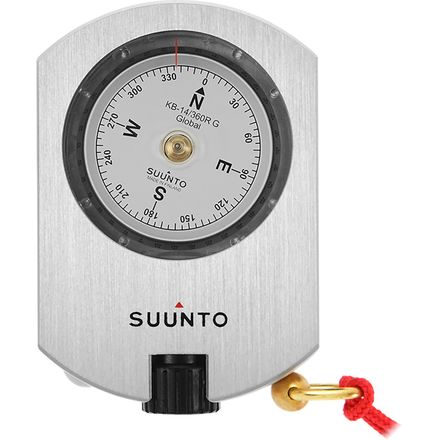 Colors

Community Images
Description
You can't use 'I got lost' as an excuse ever again.
The Suunto KB-14 360 RD Hand-Bearing Compass is designed to deliver precise accuracy, but also to be easy to use and ultra-durable. Although it weighs just 115 grams, the KB-14 delivers accuracy to 1/3 of a degree. It's been given a permanent anti-static treatment. The compass card has been immersed in a special dampening fluid that will remain clear forever and maintains a constant viscosity in any temperature. Tough, light, and accurate. What else do you need?

Accuracy 1/3° for precise location
Graduation interval 0.5°
Anodized light-alloy housing for added durability
Optical adjustment to make reading compass easier
Damping liquid for smooth, vibration-free operation
Jeweled bearing for ultra-smooth operation
Nylon pouch with belt-loop for safe, damage-free carrying
Lanyard keeps you from dropping compass
Available for 5 geographic balancing zones: 1) northern hemisphere, 2) northern equatorial zone, 3) southern equatorial zone, 4) southern hemisphere, and 5) Australia, New Zealand, and Antarctica
Know what you're buying
Familiarity:

I've put it through the wringer
This is not your typical compass. This model is better suited for foresters, land surveyors, or people need to lay in highly accurate lines/boundaries. If you're a recreational outdoors person, you're better of looking at mirrored or lensatic compasses. Also beware, this compass is put almost right to your eye, if you wear glasses with metal frames (like me), the frames will throw off the reading. Read the manual thoroughly. All the complains I've heard from this compass were from people who didn't read the manual, and tried to use it like a mirrored compass.

With that preface, this is the most accurate hand compass you can find. I'm a forester, and have used this for laying out contract and property boundaries. While in school, I used this for a compass and pacing navigation test course, I nailed the location markers every time.
So easy
Familiarity:

I've used it several times
I use compasses every day in my forestry job and for years I have used a conventional compass and always wondered about these. Finally the other day I tried this and found it really easy to use and very accurate. There are some disadvantages. One is that you cannot adjust declination so need to be able to do simple math, its minus 17 degrees in our area.



It is really easy to keep it level and get a very accurate reading.


Front and back azimuths viewable through lens. Aim it at your target, get your heading, start walking. Even losing sight of your target in thick brush or canopy, you can stay on course. Absolutely no need to adjust your declination with this type of direct-sighting compass. Just not the best compass for map overlays though.
Is every compass functional in each zone...
Is every compass functional in each zone ? Or are there different models?
Best Answer
"Zone" refers to the fact that the north edge of the compass points to the north magnetic pole on the Earth. If you're in the Southern Hemisphere, that happens to be down and through the Earth, so the plane of the compass is weighted to keep it level. It'll still point the right direction no matter where you are, but you may have to tilt it to keep the plane from hitting the housing.
Angus is right, but there are five versions for the five zones. You can tilt and adjust, but the needles are all balanced for their respective global regions. This one is going to be balanced for the Northern Hemisphere.



The lens, sighting features, and accuracy are second to none, but this is way more compass than most people need or are even capable of using for basic navigational purposes.



Here's the manual:



http://ns.suunto.com/Manuals/KB-series/Userguides/KB-series_userguide_multi.pdf