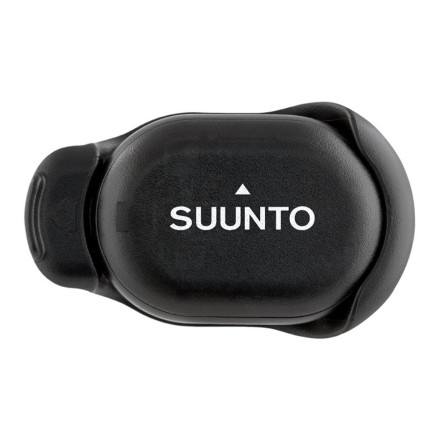 Detail Images
Make every step count and count every step with the Suunto Foot POD Mini. This itsy-bitsy data recorder clips to your shoe and then syncs with a compatible Suunto heart rate monitor to provide you with accurate information about your training speed, distance, and pace.
Measures speed and distance to provide accurate training data
Super lightweight design (nine grams) won't bog down your stride
Battery life lasts 400 hours
Water resistant design stands up to puddles, mud, and snow
Disturbance free ANT-transmission won't cut out as you move
User-replaceable battery saves you money in the long run
Note: the Foot POD Mini must be paired with a compatible Suunto wrist computer in order to provide training data (Suunto HR monitors sold separately)
Compatible with Suunto T3, T4, T6, M5, and Ambit monitors
What do you think about this product?
Have questions about this product?
Appears to be identical to the Garmin version - same numbers on the back - just a different logo. Interestingly, the Suunto foot pod worked well with both my Garmin 310XT and my Suunto t6. Woo hoo. I have been using it to monitor cadence for ski mountaineering and it clips perfectly onto the upper buckle of my Dynafit EVO boots. Seems pretty secure but I wrapped it in electrical tape just to be sure.The data seems a bit intermittent but that is probably to be expected. I have not tried it running to judge accuracy.
Tiny, weighs nothing, works good.
The Suunto Foot POD Mini is a teensy, weensy little guy that clips on the laces of a running shoe. It measures the speed and distance of a run and transmits the data to a Suunto watch like my T3d. Not only is this device tiny, but it's also so light weight that I don't even notice it attached to my shoe.

Suunto says the Foot POD Mini works both indoors and outdoors, but I've only used it outside on the roads and trails around Salt Lake City. As far as I could tell, the Foot POD Mini was accurate in telling me how far I went on a run, as it matched the advertised mileage of a lap around Liberty Park.

It's also waterproof... unless you're going to go scuba diving with it. You can take it down 100 feet actually, so you'll be fine splashing through a few puddles with this on your shoe.

Great product and a must have for Suunto fans whp are in training or just want to keep track of their mileage.
How does this item clip into the laces of...
How does this item clip into the laces of your shoes? I know with others in the past you laced them in and had to have multiple cheap plastic clips for multiple shoes. Trying to find out before I buy because the answer from SUUNTO is if I want multiple clips I have to buy multiple units. I am not willing to spend that kind of money.
An ex-g/f had this and also bought the foot pod clip (which I don't think is included here. She just laced it in. Sure, it can be annoying to do over and over again, but it's only an extra few seconds of work before a run. Personally, I think the whole suunto system leaves a lot to be desired with having an additional pod or gps. If I really wanted all the stats, I'd go with the new motorola offering - the motoactv or a garmin.