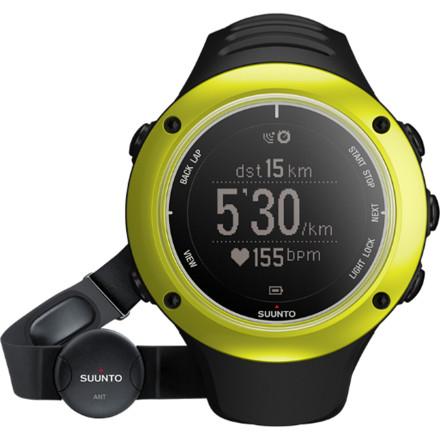 Colors

Community Images
Description
The ultimate device for serious endurance athletes.
Whether you're training for the next Iron Man or falling into stride at the start of a summer marathon, trust the Suunto Ambit2 S GPS Heart Rate Monitor to supply every bit of information you'll need to improve your performance. Complete GPS functionality logs your routes, pinpoints your location, and tracks elevation while multi-sport functionality allows you to quickly switch between running, cycling, swimming, and training modes. The included chest strap allows the watch to graph heart rate in real time and helps you target specific intensity zones. Plus, the watch can be recharged via USB and further customized with over 1000 free applications from Suunto.
Glass-fiber-reinforced composite casing with a low-profile aluminum bezel provides trail-worthy durability
Lithium-Ion battery powers the watch for up to 25 hours and can be recharged via USB
Full GPS functionality displays current location, logs routes, allows for route planning, and tracks altitude
3D compass allows you to navigate remote wilderness and whiteout conditions
Heart rate monitor with included chest strap graphs heart rate in real time, targets heart rate zones, and sets heart rate limits
Multisport functionality allows you to set the watch to training, running, cycling, or swimming modes
Training functions include GPS-based speed, pace, and distance; calories; countdown timer; and EPOC and VO2 max values
Running functions include lap comparisons and running cadence when combined with a foot POD (POD sold separately)
Cycling functions include average and maximum bike power and graph power distribution
Swimming functions track pace, distance, stroke rate, and time
General watch functions include time, date, alarm, and low-battery indicator
Adjustable backlight allows you to read the watch after the sun sets
Water resistant to 50 meters
Watch can be further customized with over 1000 free Suunto Applications
Excellent accuracy at altitude!
Familiarity:

I've put it through the wringer

Fit:

True to size
The watch is awesome! Stays connected at altitude and in northern latitudes very well (so far). The only blemish so far is that the M2 download connection may time out and need to be reloaded. That is probably a Mac issue, so I am happy to deal with the nuisance.
The S is NOT what you want
Familiarity:

I've used it several times

Fit:

True to size
I thought the "S" was better, like the iPhone6"S". In this case S means less battery life and also no constant elevation mode. There is no barometer. For measuring distances of hikes, it's great, but really sad that I can't see my elevation until I hook it up to the computer.
Unanswered Question
I am a little confused as to how long the battery lasts... do you have to recharge it? That seems weird if you are going on long outings.



Also do you have to wear a pod with this on your shoe?

Is this the latests model or last years? if so, what is the difference?

Thanks!
can this display current altitude while climbing?
Perfect buy!
Familiarity:

I've used it several times

Fit:

True to size
I wanted a GPS watch mainly for making my trail runs/mountain bikes/hikes more interesting. This watch works great! I used it down in Canyonlands on a 17 mile hike and it came in handy, especially when we needed to know the mile markers for certain sights along the way. The battery gave out at about hour 7 or 8. The heart rate monitor also works great! And it's not made in China, it's made in Finland!
Love it
Familiarity:

I've used it several times

Fit:

True to size
It really does everything it promises, I have use it to do insanity, p90x, swimming and I love the way I can setup whatever I need to workout, really helping me to keep track of my workouts and improve day by day. But I know need to test it for more interesting stuff
Hi, I am from Singapore. If i buy this...
Hi, I am from Singapore. If i buy this from Backcountry, will the warranty valid if i approach Suunto in Singapore? thanks!
Hey Dennis,



This is taken straight from the Suunto warranty page: This Limited Warranty is only valid and enforceable in the country of purchase, unless local law stipulates otherwise.



It would seam that the Suunto warranty is void in Singapore as the watch purchased from Backcountry.com is purchasing in the product in the United States.
Gear Patrol 100 product awards are dedicated to honoring the 100 best consumer products released during the calendar year by companies of all sizes and scope, from blue chip automakers to boutique American ski designers. These selections represent the collective expertise of the entire editorial staff, who have scoured every corner of the vast product universe -- from automotive and electronics, to men's style essentials, home goods, spirits and outdoors -- to find the inspiring and the practical, the ground-breaking and the traditional, the priceless and the accessible. In short: products that define or defy their respective categories to better the life of the modern man.
Elevation Outdoor Peak Award
There are plenty of "Gear of the Year" awards out there, so Elevation Outdoors decided to do it a little bit differently. They asked their top contributors—who, we are proud to admit, spend far more time hiking, climbing, biking, skiing, paddling and generally getting out than they do "working"—what was the best gear they used over the past year? What gear can't they live without? What gear changed their life? And that's how they came to the list of the essential equipment that topped their gear-geek list and should top yours, too.
Strava, a sports community for athletes all over the world, lets you experience social fitness - connecting and competing with others via mobile and online apps. Strava provides motivation and camaraderie, and helps us prove that we're out there doing what we love to do.



Connect your Movescount profile to your Strava account to transfer Moves to Strava. Any Move with GPS data can be transferred automatically, or you can choose to transfer Moves individually.

www.strava.com





FEATURES

- Join ongoing run and ride challenges to help you reach new goals and get ready for race day.

- Run or ride a segment (specific section of road or trail) and compare your effort against past efforts, as well as other athletes who've run or ridden the same segment. See where you rank and start moving up the leader boards.

- Track all your runs, rides and cross-training





HOW TO GET STARTED



1. CONNECT WITH STRAVA

In Movescount settings [http://www.movescount.com/settings#socialmedia] click "Connect with Strava" and log into Strava. If you do not have a Strava account, register first.

2. SELECT WHICH MOVES YOU WANT TO SYNC

You can select to sync all of your Moves with GPS track, only rides or only runs with Strava. You also have an option to turn syncing off.



NOTE: Strava will accept only Moves with GPS track, so no indoor training there.

3. READY

Now you are connected! After the next Movescount sync, your new Moves will be automatically transferred to Strava. To change your Strava connection settings, go to Movescount settings[http://www.movescount.com/settings#socialmedia].


Will this watch track calories burned when...
Will this watch track calories burned when doing indoor cardio exercise such as a yoga or fitness class?
Hey Toop,



I have this exact watch and use it to monitor my calorie expenditure when performing strength training in the gym. I believe it uses your biometrics, paired with the heart rate sensor to give you an approximate of your calorie expenditure. Hope this helps.
It works excellent.
Familiarity:

I've used it several times

Fit:

True to size
Wasn't too fond of the price, but after using it at the gym, this thing works well, really well. And it looks good too, fits well, fits right to my wrist and isn't too bulky.
I absolutely love this watch! Can't get enough of it and excited to see how my results compare to where I used to be. I have some work to do, but excited to build up a solid base and having this product help me stay the course!
This watch/GPS is the BOMB!
The various exercise modes are the best I have ever seen. On the Triathlon Activity lets you transition from each activity with the push of a button...amazing. The ease of use and functionality of the Ambit 2S is a game changer for the biking, running and tri communities....just to name a few.