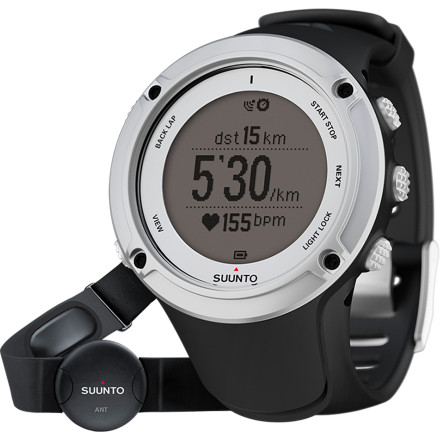 Colors

Community Images
Description
Probably does more than your desktop computer.
For the serious mountain-sports enthusiast, the Suunto Ambit2 GPS Heart Rate Monitor is the ultimate tool for measuring performance and navigating remote landscapes. Complete GPS functionality combines with the barometer to track elevation, provide route navigation, and alert you to impending storms. This Ambit2 includes a chest strap for real-time heart rate graphs and target zones, and multi-sport functionality allows you to quickly swap between running, cycling, swimming, and training modes.
Glass-fiber reinforced composite casing with an aluminum bezel (silver) or stainless steel bezel (black) provides mountain-worthy durability
Lithium-Ion battery powers the watch for up to 50 hours and can be recharged via USB
Full GPS functionality displays current location, logs routes, and allows for route planning and elevation graphing
Barometer works with the GPS to pinpoint elevation and reduce battery usage
Altimeter tracks and graphs total ascent and descent, vertical speed, GPS altitude, and barometric altitude
Weather features include barometric pressure, temperature, storm alarm, and tide information
3D compass allows you to navigate remote wilderness and whiteout conditions
Heart rate monitor with included chest strap graphs heart rate in real time, targets heart rate zones, and sets heart rate limits
Multisport functionality allows you to set the watch to training, running, cycling, or swimming modes
Training functions include GPS-based speed, pace, and distance; calories; countdown timer, and EPOC and VO2 max values
Running functions include lap comparisons and running cadence when combined with a foot POD (sold separately)
Cycling functions include average and maximum bike power and graph power distribution
Swimming functions track pace, distance, stroke rate, and time
General watch functions include time, date, alarm, low-battery indicator
Adjustable backlight allows you to read the watch after the sun sets
Water resistant to 100 meters
Watch can be further customized with over 1000 free Suunto Applications
Unanswered Question
I am going on a 19 day trek to Nepal. How can I recharge this watch along the route? Is there a solar recharger available?
Great watch, lots of data!
Familiarity:

I've put it through the wringer
I have had my Suunto Ambit 2 since May or June 2013, and have covered a lot of miles with it. It was pretty easy to get the hang of, and although I have run into some hang-ups with Movescount (the Suunto site where your tracks and data are uploaded for your viewing pleasure), Suunto has been relatively quick to patch their software on those occasions. Even if I didn't use Movescount, though, there is a lot of data that can be read off of the watch itself. I'm kind of a data geek, and this watch delivers in conjunction with Movescount.



I have two main gripes with the watch, however. First, Suunto's taking so long to get with the program as far as third-party applications (such as MapMyRun). I have used Garmin devices with such sites and programs for several years, so Suunto seems to be late to the party. Strava is cool, but I'm already established on other apps/sites, so not going to switch just for this watch.



Second gripe- the band kind of sucks. At a year and a half of semi-abuse, there are several cracks in the band. I have not had this issue with my previous Suunto products (Advizor and X10), and I'm not interested in paying $50 for a new band.



My primary uses- trekking, mountain biking and trail running. No issues with satellite reception or heart rate band, syncs pretty quickly. Battery life is great, I charge it after a few long runs or rides, or every few weeks otherwise.
This watch keeps me motivated to get out there.
Great multi purpose watch .
Familiarity:

I've used it several times

Fit:

True to size
I really just use this watch for Hiking and trail running. Really debated between A Garmin and This Ambit. In have used Garmin for years . So glad I decided to step out of my box . Love the features such as long battery life and Altimeter . This is a bit heavier than The Garmin or the Ambit 2s. But if you want the extra features it is worth the money and the minimal weight difference .
Does anyone know anything or have an guesses...
Does anyone know anything or have an guesses about the Ambit 3 and when it might be released. It seems like last year Backcountry and REI put the Ambit 1 on sale and then the Ambit 2 came out. The Ambit 2 was compelling over the original, but I'm not sure what the Ambit 3 would offer other than bluetooth and more memory for more apps. Not sure that I care that much about either of these, but I guess more memory is always a good thing.


reportedly this fall. although you lose the ANT+ for bluetooth. http://www.dcrainmaker.com/2014/07/suunto-ambit3-multisport.html


Outdoor Gear Lab Editors' Choice
Outdoor Gear Lab tested five of the best altimeter watches on the market in side-by-side tests over a year. These watches feature the key functions that hikers, backpackers, and climbers use the most: altimeter, barometer, digital compass, and standard time-keeping features.
Strava, a sports community for athletes all over the world, lets you experience social fitness - connecting and competing with others via mobile and online apps. Strava provides motivation and camaraderie, and helps us prove that we're out there doing what we love to do.



Connect your Movescount profile to your Strava account to transfer Moves to Strava. Any Move with GPS data can be transferred automatically, or you can choose to transfer Moves individually.

www.strava.com





FEATURES

- Join ongoing run and ride challenges to help you reach new goals and get ready for race day.

- Run or ride a segment (specific section of road or trail) and compare your effort against past efforts, as well as other athletes who've run or ridden the same segment. See where you rank and start moving up the leader boards.

- Track all your runs, rides and cross-training





HOW TO GET STARTED



1. CONNECT WITH STRAVA

In Movescount settings [http://www.movescount.com/settings#socialmedia] click "Connect with Strava" and log into Strava. If you do not have a Strava account, register first.

2. SELECT WHICH MOVES YOU WANT TO SYNC

You can select to sync all of your Moves with GPS track, only rides or only runs with Strava. You also have an option to turn syncing off.



NOTE: Strava will accept only Moves with GPS track, so no indoor training there.

3. READY

Now you are connected! After the next Movescount sync, your new Moves will be automatically transferred to Strava. To change your Strava connection settings, go to Movescount settings[http://www.movescount.com/settings#socialmedia].


Works as advertised.
Familiarity:

I've used it several times

Fit:

True to size
I've used it on a dozen or so runs and a couple of hikes . The GPS locks in fast, even indoors.
Great GPS, bad HRM
Familiarity:

I've put it through the wringer
GPS is always very accurate for me even in thick trees. The HRM on the other hand always reports an unrealistically high HR for the first 10-15 minutes of a workout until the strap is sufficiently sweaty. I put electrode gel on the contacts before every workout and it helps a little bit but does not fix it. I used a different HRM with my iPhone before buying this watch and it did not have this problem at all.



Otherwise it's a great watch. Like others have said, the Movescount software and website sucks, but it's easy enough to export everything to Strava.



I use it for running and backcountry skiing.
Awesome watch
Familiarity:

I've put it through the wringer
Wanted something that have me critical information like GPS coordinates and navigation, as well as temps and heart rate/cals burned. Wanted a watch that would work for every activity under the sun. This Suunto was the right choice. Have been so pleased with it and have recommend it to any athlete I've talked to that has been looking for a watch to track workouts/climbs.



The only issue I've had is that starting a workout and being in the forest is very troublesome(duh, right?). But you would think once you got to a clearing it would detect a satellite..unfortunately it takes awhile. This is the only gripe I have with the watch though.
do you send it to israel?
do you send it to israel?


Unfortunately we cannot ship Suunto products outside of the United States.
The Bombdiggity;Watch the Advo Run Time
Familiarity:

I've put it through the wringer

Fit:

True to size
I bought this watch for training and leading up to me first 50 mile Ultramarathon. The pace features are fantastic, as well as the altimeter and temp gauges. I actually owned a Suunto Core previously. (returned due to condensation in the face) The advertised run time with full GPS features is around 30 hours. I thought this would be more than enough charge time to get me through a 50M. I was wrong. Like, 40 seconds wrong!



The watch was awesome! Kept me on pace, kept me motivated. Kept track of my calories burned, elevation changes, miles ran. But I started to get a little concerned when I reached mile 48 and the watch started to flash the battery on the bottom. I knew from experience with other watches, that this meant the watch was a few hours from expiring. I was wrong again. With less than a mile to go, the watch pooped out. When I got onto Movescount.com, I loaded my track, 49.2 miles. I was so disappointed. My frist ultra, and I was cut short by only a few minutes and less then 8 tenths of a mile.



On president, I sent it back. I finished the race in 11 hours and 53 minutes. WAY under the 30-50 hour GPS functionality advertised.



On the other hand, this thing is sweet! It looks fantastic, works like a dream, and the pacing feature is unrivaled. But keep your rambles to under 12 hours if you want to track your whole series.



RUNR UN!!!
Ultimately Disappointing
Familiarity:

I've put it through the wringer

Fit:

True to size
I've had the Ambit2 for almost 3 mos and have used it quite a bit. I like it as a watch and HR monitor but it is spectacularly lacking in some areas. GPS is buggy and will not stay connected when moving very fast; the HR strap pod is too big, if Garmin can make it small and comfy then Suunto can too; and lastly: MOVESCOUNT is terrible software. while i like the watch itself, there is no way i'd buy it again knowing what i know about MOVESCOUNT - it is truly terrible software. it is nearly impossible to compare anything, it is slow, it drops data transfers, you cant easily share moves and you cant easily export data. DO NOT BUY this device until MOVESCOUNT is significantly improved. I have a garmin on my bike and can guarantee you that the garmin software is vastly superior.
Impressive customer support
Familiarity:

I've put it through the wringer
Once in a while I had trouble uploading my workouts to Movescount using the Moveslink software (Windows 64bit), so I called Suunto customer support. They asked me to try a few different things and to send my log files to them. The things they suggested didn't work so they told me to hold on. Two weeks later I got a mail saying they had updated the Moveslink software to eliminate this bug and that I should download the new version. Now everything works perfectly :)



I'm impressed by the turnaround! If these guys could start working in support at my job I'd be a happier man :)



Also, when customers asked for a trackback function they simply added one. Great follow up from the guys at Suunto
So amazing
Familiarity:

I've put it through the wringer
Technology has gone so far and it is amazing what this watch is capable of doing. Coupled with movescount website you can do great things and now that people are making apps for it it gets better every day.

The GPS is very good, I have been really far int he backcountry and maintained signals throughout the steep trees and wild terrain.



Then come home uploaded the day and within minutes put the track on google earth. So easy.



Love it




Worth every penny
Gender:

Male

Familiarity:

I've put it through the wringer

Fit:

True to size
I have now had this watch for over a year. It still works perfectly and the features are top notch and give accurate information and data readouts. I have run 2 ragnars, a half marathon, countless hikes, and mountaineering trips with it. I have used it while sailing, snowboarding, biking, and many other sports. Simply put. It rocks.