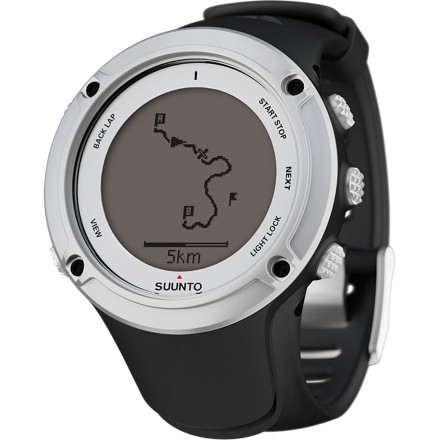 Colors

Community Images
Description
When you head to the mountains, arm yourself with information.
Whether it's a week-long bike tour in the Pyrenees, a backcountry ski tour in the Wasatch, or a summer of training for a marathon, let the Suunto Ambit2 GPS Watch supply you with every bit of information you need. Full GPS functionality pinpoints your location and elevation, and it keeps you on course while the barometer graphs changes in pressure and alerts you to impending storms. You can also quickly switch between running, cycling, training, and swimming modes for instant access to pertinent information like lap times, calories, and total distance. Plus, the watch battery can be recharged via USB, and over 1000 free applications are available from Suunto for even greater customization.
Glass-fiber-reinforced composite casing with an aluminum (silver color) or stainless steel (black color) bezel provides mountain-worthy durability
Lithium-Ion battery powers the watch for up to 50 hours and can be recharged via USB
Full GPS functionality displays current location, logs routes, and allows for route planning and elevation graphing
Barometer works with the GPS to pinpoint elevation and reduce battery usage
Altimeter tracks and graphs total ascent and descent, vertical speed, GPS altitude, and barometric altitude
Weather features include barometric pressure, temperature, storm alarm, and tide information
3D compass allows you to navigate remote wilderness and whiteout conditions
Heart rate capability (chest strap sold separately) will graph heart rate in real time, targets heart rate zones, and sets heart rate limits
Multisport functionality allows you to set the watch to training, running, cycling, or swimming modes
Training functions include GPS-based speed, pace, distance; calories; countdown timer; and EPOC and VO2 max values
Running functions include lap comparisons and running cadence when combined with a foot POD (POD sold separately)
Cycling functions include average and maximum bike power and graph power distribution
Swimming functions track pace, distance, stroke rate, and time
General watch functions include time, date, alarm, and low-battery indicator
Adjustable backlight allows you to read the watch after the sun sets
Water resistant to 100 meters
Watch can be further customized with over 1000 free Suunto Applications
Watches are very much a personal purchase, even when they are meant to be more of a functional tool than a fashion accessory. In my non-sporting life, I actually like to wear an old-fashioned mechanical watch, with no battery and cutting edge frills such as a second hand and the date.

When it comes to being active,though, I really love having a watch with some tracking and navigation features. These days, it's very tempting to rely on a smart phone, which can actually do a lot of things we want from sport watches as good, or even better. However, I still find a lot of reasons to wear a watch:

-ease of use carrying it on my wrist vs some other means
-durability/water resistance
-ability to customize displays to suit your needs

Major con: have to connect with a cable to a computer to sync activities. The newer Ambit3 can connect directly to smart phones. That improvement is not worth it to me to junk a perfectly functional watch, but if I were in the market at the moment I would obviously go for the 3.
Excellent ABC and GPS Watch
Familiarity:

I've put it through the wringer
This is a great watch for the mountains. Whether you are training to for a triathlon or alpinism this is a great tool to have. I use this model primarily in the mountains for my climbing or backcountry skiing endeavors. The altimeter and GPS work great. The battery life is pretty decent (depending on how you run it) and the display reads great! I have not had any of the track issues as mentioned previously - I have attached a recent screenshot of my track on Rainier for an example. The GPS does take a few minutes to acquire which is a minor annoyance.

While this is an older model ambit, I also have an ambit 3S. My
Too inconsistent and unreliable
Familiarity:

I've put it through the wringer

Fit:

True to size
Don't think I've ever posted a negative review until now. After losing my Suunto Core I went to the Ambit2 specifically for the altimeter and GPS (moves count). I've used it regularly for the last 1.5 years. Along with posting/recording multiple inaccurate "moves" similar to other reviews, the most frustrating thing is how long it takes to connect to the GPS if it ever does. Worse part is it happens most in our state's capital city on local trails where you would assume it would be perfect. It does slightly better in the ocean or back county of WY. It is at most times a $500 stop watch.



When it does work it is awesome and exactly what I wanted. I upload to their site and do the updates. I cannot comment on customer support and that may be my next step. And yes, I probably should have done this by now. Suggestions welcome. I want to love this watch but am one or two rides away from throwing it in a creek.
Great until problems appear...
Familiarity:

I've put it through the wringer
I've been a great Sunnto fun for years. I was allways impressed with their quality and have not saved money on their products. Compasses, the Core, than Ambit 2 came.



I was happy until my watch has recorded the track of an outing with some peaks in places, I have never visited. The effect was that my friend's Ambit (correctly) recorded twice less distance than mine. I contacted Suunto and their only answers were that I should have the save interval set to 1 second, not 10. But I want 10 and there is no reason to have it set in a differet way. I contacted Suunto support several times regarding the problem since than. They stopped answering my emails or it takes a week to get an answer bypassing the problem. I have even contacted their headquarters in Finland by phone, it's pointless either.



Bottomline. If you like spending 500$ and beeing Suunto's cash cow, go for Ambit. I am very disapointed with their support and service.

BTW, the battery life after a year seems not to be a advantage either.
I see there is an Ambit 2 HR and an Ambit...
I see there is an Ambit 2 HR and an Ambit 2. Are they the same watch minus a heart strap, or is the Ambit 2 incapable of supporting a heart rate monitor strap/belt? I am curious if I go with the cheaper option, the Ambit 2, if later I can buy a HR monitor for that model.
The watch is the same for each. The Ambit 2 HR just comes with a heart rate strap in a package. This watch is compatible with all ANT+ accessories, you just have to pair them to the device.
Best on the market!
Familiarity:

I've used it several times

Fit:

True to size
I am not sure what I can say that will add to the reviews below (especially the stellar review and side by side comparison from outdoorgearlab.com), but this watch really is worth every penny. The aesthetics of the watch are great, and it actually is very comfortable to wear after the first couple of days, even if you have smaller wrists.



The watch itself is great with tons of features and apps. You get the added benefit of Suunto's Movescount program, which allows you to track the progress of your training and events down to the last detail.



I suppose the biggest hesitation I (and I am sure many others) had in buying this particular watch over say a Suunto Core, is the relatively small battery life. However, my experience leads me to believe that Suunto is being very conservative with their estimates. If you leave the GPS running constantly it will probably run down in 2-4 days. But when I use this watch with maybe 6-7 runs suing GPS a week and some other GPS use activities. I get more like 7-10 days out of the battery, which is far more than the product description says it will get. Also the GPS shuts down whenever you aren't using it so you don't accidentally drain battery life.



And the charging process is so easy. By the time the battery is at 20% I am dying to plug into my computer to look at my training stats on Movescount anyway. The watch charges very fast and you don't have to replace batteries.
Outdoor Gear Lab Editors' Choice
Outdoor Gear Lab tested five of the best altimeter watches on the market in side-by-side tests over a year. These watches feature the key functions that hikers, backpackers, and climbers use the most: altimeter, barometer, digital compass, and standard time-keeping features.
Strava, a sports community for athletes all over the world, lets you experience social fitness - connecting and competing with others via mobile and online apps. Strava provides motivation and camaraderie, and helps us prove that we're out there doing what we love to do.



Connect your Movescount profile to your Strava account to transfer Moves to Strava. Any Move with GPS data can be transferred automatically, or you can choose to transfer Moves individually.

www.strava.com





FEATURES

- Join ongoing run and ride challenges to help you reach new goals and get ready for race day.

- Run or ride a segment (specific section of road or trail) and compare your effort against past efforts, as well as other athletes who've run or ridden the same segment. See where you rank and start moving up the leader boards.

- Track all your runs, rides and cross-training





HOW TO GET STARTED



1. CONNECT WITH STRAVA

In Movescount settings [http://www.movescount.com/settings#socialmedia] click "Connect with Strava" and log into Strava. If you do not have a Strava account, register first.

2. SELECT WHICH MOVES YOU WANT TO SYNC

You can select to sync all of your Moves with GPS track, only rides or only runs with Strava. You also have an option to turn syncing off.



NOTE: Strava will accept only Moves with GPS track, so no indoor training there.

3. READY

Now you are connected! After the next Movescount sync, your new Moves will be automatically transferred to Strava. To change your Strava connection settings, go to Movescount settings[http://www.movescount.com/settings#socialmedia].


Skiing Sliver Couloir w SUUNTO Ambit2
Grand Teton National Park w SUUNTO Ambit2 on March 14, 2014
This is The Watch!
Familiarity:

I've put it through the wringer
I used it for running, bushwalking and took it to Nepal. Looks heavy but it is not. The GPS tracking is amazing, very useful when getting lost(need to save your routes in the watch). The battery was very accurate, just died after 50 hrs hiking. One thing you need to be aware that if the battery died, the settings will be lost and you need to manual setup the time/date if you don't have a PC to sync. Don't forget to recharge. Sunnto's Movement website is not amazing. When sharing on Facebook.... I tried once and deleted it. At the end, it is a great watch for out door sports!
Sunnto Love
Familiarity:

I've put it through the wringer
I am so pleased with this watch! I love the look and the functionality. There are no big issue. This is not the sapphire so the screen can scratch. Mine scratched after one time rock climbing with it but it is not too bad and doesn't distract anything. The battery life is kinda short if you are using GPS but if you have any sort of outdoor solar panels to charge it it is fancy dandy :) I am super pleased and will buy again if I have to.
Good looking watch with an incredibly amount of features. I bought it for my husband, who wanted an altimeter watch, and he did not like it because it was too complicated to use. He wanted something simpler. He is not tech-oriented, so someone more techy would probably really like it.