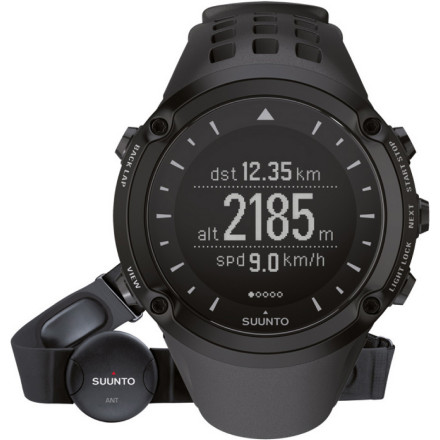 Videos

Community Images
Knowing that people went to the moon with less computing power than is present in today's average laptop, you may be tempted to take your Suunto Ambit HR Altimeter Watch all the way to the peak of Mars' Olympus Mons. An integrated GPS system and multi-dimensional compass could certainly come in handy while you navigate new territory on the Red Planet. This watch's computing power complements its ability to interface with online features for customization per your needs.
3D compass complements a full-featured GPS with Waypoint navigation
Accurate barometric altitude keeps you up-to-date on your vertical progress
Highly responsive pace and speed thanks to accelerometer-integrated GPS
Accomplish advanced heart rate monitoring with real-time Peak Training Effect and Recovery Time features, while included heart rate strap provides feedback on your cardio
Water-resistant up to 100m so you don't have to worry about exposure to moisture
Integrates with Movescount.com for additional functionality and upgrades
Does the Suunto Ambit watch display UTM...
Does the Suunto Ambit watch display UTM coordinates?
Best Answer
Yep, this one can display coordinates in UTM and MGRS, too. All versions of the Ambit will.
Not just for hiking and biking!
I acquired this watch with a slightly different purpose in mind than your typical trail runner. This past March I set off on a 2100 miles motorcycle road trip to the southern tip of Alaska. With my skis strapped to the bike I tracked my progress as I drove and skied my way up the coast to the promise land.



I set the watch with 2 different functions; a custom "motorcycle" tracker to record my distance, direction and speed on the road and secondly the pre loaded, "alpine skiing" function to track my altitude, duration and speed among other things. The data collected is incredibly accurate as long as you remember to start and stop the function pre and post action.



The best feature of this watch is the ability to sync the watch to your Movescount profile online. The program pulls all your data off the watch to an easy to inspect breakdown of what you did that day and lets you effortlessly compare your "moves" to past dates.



The only set back I was not used to is having to charge the watch each night. The satellite GPS takes far more juice to operate than your typical watch which is kinda annoying but the data it generates is well worth the minor task.



Since the watch has the GPS feature it definitely is slightly larger than your typical watch. With that said it is still incredibly light and not noticeably bulky. The silver casing gives it a very mountainy, french style which goes well with it's main market.



Highly recommend for its intended action sport market and can even branch out into other land roamers...


It says the battery on this watch is...
It says the battery on this watch is rechargable, but a question about that: Does the watch come packaged with a charger and or charger adapters (i.e. AC, 12V, etc.?). Additionally, if it only comes with a USB cord meant for charging purposes, are there adapters that are sold separately which are USB-compatible that you could use when you aren't going to be around a computer for weeks at a time?
It comes with a cable for charging/data, and you can get AC/USB adapters for less than ten bucks. Chances are you already have one, actually, from an iPod or iPhone or some other phone. My Samsung came with one.
Angus, thanks for the answer, but I must insist on inquiring further. Are you saying that if I already have a an AC/12V charger, I can just use that and attach the included cord to it to charge the watch when necessary? Also, one more thing, is the charger a mini or micro USB plug?
A year of mountain biking,road biking, ski touring, ski mountaineering.... Still working like the day I got it.
I know that this thing has a bit of a hefty price tag, point of fact it cost more than my Movado... but its worth EVERY PENNY!!



If you are serious about your training and want a tool that can provide you with an immense amount of data, this is it.



Suunto keeps updating the software, you can make your own custom apps, it uses scientifically proven metrics to help you ensure that you are not over-training and it tracks all your activities on a very easy to use web interface (movescount.com).



Bottom line: I LOVE this watch and its been extremely helpful in my training and my adventuring.
So Far, Awe-some-ness....
So far have only used it for indoor training in the first month of ownership, but have been impressed by the functionality, ease of use, and in particular the usefulness of the movescount.com integration.



Be prepared to spend a little time getting to know the watch. Think of the watch as a new friend, and like any friendship, it requires a little give and take, as well as a get to know you period.



The integrated HR monitor has worked nearly flawlessly. I have on several occasions need to refer back to the pdf manual for the watch available on suunto.com to troubleshoot pairing them together, but once I "moistened" the electrical pads, it has worked perfectly. I now track every exercise/move on the watch.



Don't hesitate on this bad boy, it most certainly is worth it!
Good watch...
Gender:

Male

Familiarity:

I've put it through the wringer
Really like the functionality of this device. Unfortunately my first one had a major error with the altimeter overreading significantly. Suunto did a great job getting me a replacement which seems to work much more consistently. The customizability and functionality is great - can see the data I want. Only annoying think is the hard link to Suunto's MovesCount website - no direct Strava upload.
I was really stoked on this device. Its way more than a watch and While I was surprised to find out how much I was interested in all the Data that it collects, I like even more the way that it displays back to you on your computer. I found out things like my ski days at snowbird, a good 4hr session gives me about 20,000 vertical feet. and depending on what lifts and runs I ski I am descending for about half the overall time. I found the HR feature very helpful in my pre-season training, and early season conditioning.
I work outside most of the year and this watch works in all conditions. Used Gps to navigate in 28 degrees in freezing rain for hours with no problems. The watch was under 2 feet of water for about three hours while working in a swamp in about 35 degrees and had no issues other then a slight increase of battery drain. I use the navigation and gps function a lot for work as well as barometer and hr function for working out and this watch is flawless. Has replaced my titanium gshock for must have kit when it counts. Oh yeah. The back light can replace a signal fire in a pinch. Very bright. I have turned it up and used it as a flashlight. Wow. Love it.
I get complements on this watch all the time. Besides its good looks, it truly is an amazing watch. Hopefully soon it will be compatible with Strava. You won't be disappointed, get one- now.
I have only had this unit for the past couple of months and have been playing with its settings and capabilities. To this point I enjoy the ability to record not only cycling funtions but can choose other training activities like ski touring, skate skiing, indoor cycling, indoor training, mountaineering, etc. The Movescount software is essential in order to analyse your data and logging it in one convenient accessible place. This allows you to graph your HR, Vertical Climbing and descending, EPOC, Kcals, O2, Training Effect, and Recovery Time among other key training features.

Some of the key features I use on a daily basis includes:
_Full-featured GPS (SiRFIV chip)
_3D Compass
_Barometric altitude
_Barometer
_Temperature
_Waypoint and route –navigation with GPS
_Point of Interest creation and storing in watch and in Movescount.com
_Location in multiple coordinate systems
_Wireless Bicycle Kit (sold seperately) connects you to your rides if you want more than the GPS feedback
_Downloadable and customizing Apps allow you to tune the watch for your needs.
I like the that the GPS unit has what they call a Highly responsive pace / speed (FusedSpeed™) and distance from accelerometer integrated GPS. This will fill in the holes in my GPS mapping when I loose GPS signal intermittantly when in deep in forest canopy. I will provide More on how this actually works as I use it.

The one issue I have at this point is your wrist can accitdently change the menu on the watch while training. In oder to prevent this You have to lock the watch screen to prevent accidental screen changes. This is very simple by holding another button for about 3 seconds to lock and the same to reverser the screen locking. Easy.

This is a great data piece to add to your daily training regiment.
Ride ON!
Holy crap, this is awesome!
Gender:

Male

Familiarity:

I've put it through the wringer
I got this a few months back and I am in love with this watch! Customize this to meet your needs for every activity you do. Also, there are user based apps you can add that Suunto didn't even think of. If you get the HR monitor the only complain I have is you can't let it get cold. I kept it in my car a couple times so that it was easily accessible if I needed. Couple times the battery froze and it took a long time to warm back up to be usable. The watch is perfect though.
Awesome!
Gender:

Male

Familiarity:

I've put it through the wringer
I purchased the Ambit when it was first released. Since then, Suunto has completed a number of firmware updates, based on user input/feedback. Great company. Without going into all the details as to why I use this biking, hiking, trail running, street running, backcountry skiing, climbing, rollerblading (yes, my wife got me rollerblading this summer and I created a 'rollerblading' profile just for the event), I'll just say that it's become a staple whenever I head out doors. Solid product!
One Watch to Rule Them All
Gender:

Male

Familiarity:

I've put it through the wringer
I've been using the Ambit extensively for 2 months now and it has become my favorite ABC tool and fitness trainer. It is very accurate on gaining a signal and the battery life is phenomenal. I've used it riding my bike, running, skiing, touring, and it has excelled at keeping tabs on all of my activities with aplomb.



My only gripe thus far is the inability to change the display fields for a given activity without a computer. Sometimes I want more or less data in the field but there is no easy way to change it.
I really like the idea of getting this...
I really like the idea of getting this watch but it is pricey. Are there any comparable watches? Garmin?
Simply the Best!!!
Gender:

Male

Familiarity:

I've put it through the wringer
I was hesitant with the Ambit as just a heart rate monitor. It is a great watch but would I use all the bells and whistles this watch has to offer. Simple answer...YES. Have used the Suunto T3 as a previous heart rate monitor but the Ambit brings personal training and adventure to a whole new level.

I?ve been in the military 15ish years and been continuing to train and challenge myself every year. With that said, the heart rate monitoring features of the watch and belt are simple, easy to view, and accurate. The Ambit allows you to see a bar graph of your heart rate while you?re training. This feature allows you to push yourself with out over doing it. The accuracy and resolution of the GPS receiver is the best I?ve seen, (identified perfect ovals around a 400 meter track).

Bottom line?I would recommend the Ambit to anyone that enjoys training and the great outdoors.


Can I buy the watch and heart rate monitor...
Can I buy the watch and heart rate monitor separately?
Does this have a lithium Ion battery? ...
Does this have a lithium Ion battery? Will you ship USPS?
Yes,it has a lithium Ion rechargeable battery. Here are some more details:



Battery Rechargeable lithium-ion

Battery life 15h in exercise mode (1s GPS fix interval)

50h in outdoor mode (60s GPS fix interval)

30d in ABC mode (GPS and HR not in use)


Yes,it has a lithium Ion rechargeable battery. Here are some more details:



Battery Rechargeable lithium-ion

Battery life 15h in exercise mode (1s GPS fix interval)

50h in outdoor mode (60s GPS fix interval)

30d in ABC mode (GPS and HR not in use)


Suunto Ambit Altimeter GPS Review - Kim Havell
By far the best GPS and HRM watch on the market today!
It doesn't even feel right to call the Ambit a watch, as it is SO much more... I am still amazed at the price of this watch. No other watch on the market can touch all the features of the Ambit... Finally, in 2012, one can find a watch with all the needs of an explorer/adventurer... And for those who like to Jeep.

One note on the heart rate monitor strap: make sure you wet the connecting points with water prior to any use & be sure to place the ANT pod more to the left over your heart