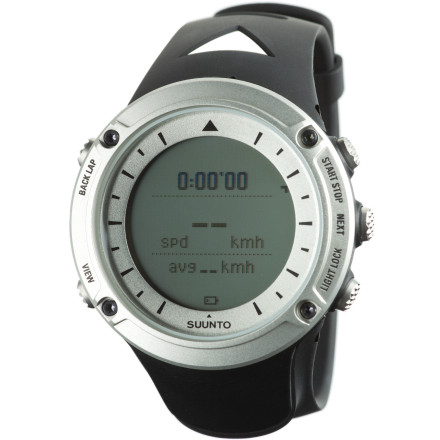 Videos

Community Images
The Suunto Ambit Altimeter Watch maxes out on altitude tracking at right around the height of the summit of Everest, so you can offer definitive proof of your success after you've returned safely to base camp. That's not all you can track on this multi-functional timepiece, which won Gear Junkie's Greatest Gear Award for 2012.
3D compass complements full-featured GPS with Waypoint navigation and integrated accelerometer with corresponding FusedSpeed software
Thermometer, barometer, and accurate barometric altitude get you up-to-date info on your surroundings
Interfaces with sports planning and analysis tools at Movescount.com to augment your training plan
Compatible with Suunto heart rate monitor belts and Bike and Cadence PODs (not included) so avid cyclists have as much info as possible during long rides
Multiple modes cater to specific activities including (but not limited to) hiking, cycling, running, skiing
Water-resistant up to 100m so you don't have to worry about taking a dip or exposing it to rain or fresh pow
The perfect wrist accessory
Familiarity:

I've put it through the wringer
Watches I've owned:

Garmin - FR60, Forerunner 410

Suunto - t3, t4, X6hr



Watches I've owned that came even close to the Ambit:

Garmin - None (fairness - I haven't tried the Fenix)

Suunto - None



The Ambit is everything I've ever wanted in a watch. It functions well (especially after the last firmware update in July), is rugged, and kicks the ass of every other watch I've ever owned.



Highlights:



The case design puts the joint between backplate and face closer to the front of the watch and the screws on the face. This means your sweat can't weasel its way in there and destroy things, like it did to my t4.



Suunto has added features and fixed bugs regularly. Autopause added last update. Moveslink software bugs fixed.



The HR strap is so comfortable that it disappears.



Lowlights -



Get rid of your stupid proprietary ANT format, Suunto! (The Ambit will read regular ANT+ devices)



All said, Suunto has finally made the GPS-enabled watch I've always wanted. It doesn't hurt that it was over 70% off at an REI garage sale.




Wrist-top computer
Familiarity:

I've put it through the wringer
This thing is powerful. You can do everything a full size GPS can do. Save waypoints, and trails, find lat long coordinates. Track your trail run. The speedometer is a cool feature to know how fast you ski or bike. It's pretty accurate too. I have always hated watches but since this one is so functional I actually use it!
Able to use BRunton solar charger to...
Able to use BRunton solar charger to recharge the watch?? Which charger is the best for this?

Thanks

Joe t
Best Answer
Hey Joe,



I think that the Brunton Solar Charger would be fine for charging the Suunto Ambit. Problem is the plug for the Ambit is a USB plug so you will either need to get an adapter for the charger or better yet pick up a battery pack.
Does the Suunto Ambit watch display UTM...
Does the Suunto Ambit watch display UTM coordinates?
Best Answer
Yes, it can be set to use UTM and MGRS coordinates in addition to lat/long. One of the few watches that can, although GPS shortens the stated battery life considerably. It can't establish altitude from GPS though, yet.
Suunto Ambit Altimeter Watch
Unanswered Question
Can it set time via GPS? (Eg after running...
Can it set time via GPS? (Eg after running out of battery.)
How do you charge this? Could I charge it...
How do you charge this? Could I charge it with one of those crank flashlights with a USB port on it or is it impossible to charge it on the trail?
Best Answer
There is a USB powered alligator clip that you attach and it charges up. I think you can basically charge it from anything that puts out USB power. I have used my Goal Zero battery packs and panels to charge it (albeit more slowly than from my laptop or wall socket).
Your best bet for charging it during extended periods on the trail would be a small solar panel with a USB port from someone like Brunton. But honestly, as cool and feature laden as this device is, a mere 50 hours of battery life and having to carry other gear to keep it running is something I would find completely unacceptable from a functional standpoint. Just my pragmatic way of adding my two cents, for whatever it's worth beyond that.
Pace and split accuracy you crave
Gender:

Male

Familiarity:

I've used it several times
I bought this watch primarily for keeping track of the milage and pace of my runs. Ambit has a large display which is easy to read while running, but no so big to be unwieldy. The weight of the watch is quite low given the size and is not uncomfortable on the wrist.

Ambit connects to your computer through a USB cord that has a clamp on one end that secures to electrical contacts on the watch. Generally this works well, although I have had the connection fail if the watch isn?t set down gently. Ambit automatically downloads/connects with a program called Movescount online, where you can view your data and customize your watch features.

I?ve found the Ambit to be highly reproducible in terms of distance measured during a move. I?d estimate the reproducibility to within a few hundredths of a mile for a run of 4-8 miles. Reviewing my GPS trace online, I?d say the Ambit is quite accurate as well- it will pick up subtle changes such as moving from one side of a street to the other. There are several issues with Ambits in-use performance that should be addressed. When the start/stop button is depressed during a run, a split is automatically taken. This breaks up the split of the mile/km interval that you are currently on, meaning that the next automatic split will give you a time for only a fraction of the interval of interest. Note: I think this has been addressed in the new firmware upgrade. Secondly, a split should first show your split time, not split number. Finally, as mentioned elsewhere, the stopwatch readout only goes to the nearest second, hundredths of a second would be preferred.

I?m impressed with the distance and pace keeping performance of the Ambit. I will continue to use this for most of my runs, but probably return to my Timex Ironman for interval work on the track.


Game Changer
Gender:

Male

Familiarity:

I've used it several times
When I first got the Ambit, I was afraid to turn it on as these types of devices are usually hard to operate, have confusing menus, and make me want to throw them across the room in frustration. But Suunto has really come up with a menu system that is so intuitive, easy breezy in fact, that I had it calibrated and set up to my location in under 10 minutes. Excited with my newfound toy, I was out the door for a trail run in Emigration Canyon.



Want easy? You can tell the watch what activity you're about to do, and it automatically turns on the functions you'll need. I was most interested in the watch's ability to track my movements via GPS that can be downloaded into Google Earth. After telling the watch I was trail running, the Ambit locked onto the satellite blazingly fast and never lost the signal. After running my standard 4-mile loop on the Bonneville Shoreline Trail, I went home and uploaded the data to Movescount.com, Suunto's online community where all your data is stored so you can track your progress and experiences. After syncing the Ambit to my account, the route uploaded onto a shareable map and I was able to create a .gpx or .kml file for future use. The Ambit also tracked my speed, altitude, distance, vertical speed, and even the temperature.

What's really amazing about the Suunto Ambit watch, what's actually a game changer, is that the watch platform can be upgraded in much the same way you can upgrade your computer. In the past, if you wanted a watch or GPS with new features, you had to buy a new watch. But with the Ambit, updated software is ready to be downloaded directly to the watch when you plug it in to charge on the computer. In the short time I had the Ambit, new software was downloaded twice. The folks at Suunto are always tweaking and improving their products, and you can get those improvements instantly and at no cost. Basically speaking, with the Ambit, you'll never have to buy a new GPS watch again.


Very Pleased
Gender:

Male

Familiarity:

I've used it several times
I've been using the Ambit for almost a month now and really like it. I'm still learning some of the features and tweaks, so I think it will only get better - especially since Suunto seems to be offering software updates as they improve it.



My only previous GPS devices were an old Garmin and my iPhone, so I'm not an industry expert. However, I am extremely impressed with how quickly this watch acquires a GPS signal and holds it - even indoors and in thick woods. I've used it for running, trail running, hiking and road biking so far, along with the HR monitor. I like the way that the data is displayed on movescount. I can think of a couple of little nits, but overall love it.



Also, the watch looks good, and I wear it many days to work as my regular wristwatch. The black with the negative display looks pretty cool.



I'm especially anxious to try it skiing this season -- I need to figure out if there is a way to have it only run during descents (i.e., auto pause on the lift)



UPDATE: I just got back from a 5-day ski trip and used the Ambit to track my vertical feet and map my routes. Very easy to use and plenty of battery life. The GPS seems extremely accurate, and the watch held a lock on the GPS signal under my ski jacket and gauntlet-style gloves. I easily customized the display screens for skiing to suit my needs.



Highly recommended.
I am planning a thru-hike of the Pacific...
I am planning a thru-hike of the Pacific Crest Trail starting next April (2013), and was wondering was people's experiences were with this watch and its battery life. Off to the side under the specifications, it states that as being 50 hours, but that seems like an awfully short amount of time if you are actually going to be using it on a day to day basis. I guess, my question is, would it be worthwhile to invest in this watch, or would I be better off finding something that has a longer battery life so as to not have to worry about needing to charge the device often, or at all?
Best Answer
The battery duration on a single charge depends on how Suunto Ambit is used. The duration ranges from 15 to 50 hours or more. With basic watch functionality this can be up to 30 days



Battery duration (single charge):

~ 15 hours with 1 sec GPS fix*

~ 50 hours with 60 sec GPS fix*

~ 30 days in ALTI/BARO/COMPASS mode (without GPS)
Suunto Ambit Review 2012 - Kim Havell Backcountry.com Team Athlete
Having tried a number of the other GPS offerings on the market, I have this as the current #1. Phenomenal accuracy was noted on the very first run, my little 8mi out & back that I hit on days when I don't have much time. On the out it recorded 4.02 and when I hit stop at the finish it was at 8.04. Same to the 100th.
Reviewing the tracking logs online on the map overlay to see if there are any dread straight lines (showing where the tracking was lost and jumping ahead to where it picked up) in 3 months of runs I have seen two straight lines and both very short segments.
Easy to customize display screens and visualization is a breeze on the move. If you have it set to display intervals (like every mile) it senses when you are on a night run and lights up the display automatically (Cool!). Reading screen at night is easiest of any watch I have owned. I suppose during the day also, for that matter.
HRM accurate, but I flip it upside down to avoid chafe from the battery compartment lid.
Fit: it's a big watch, but more in a badass way than awkward big.
Only downside I can report is the online Movescount site is mediocre, which isn't really a watch issue. Site is slow and not very versatile. Hard to extract data for segments of a run (i.e. to compare times on a particular climb from run to run). I suppose the response would be to use laps, but I prefer not to do that as it messes up my overall run data and I like to focus on running when I'm out, not messing with my watch. I want to look at the data after I'm home.
For the watch, it is the current gold standard GPS on the market. Have only had a few months, but feels very durable, solid operation, intuitive use. Altimeter is super accurate as well.
Suunto Ambit Altimeter Watch