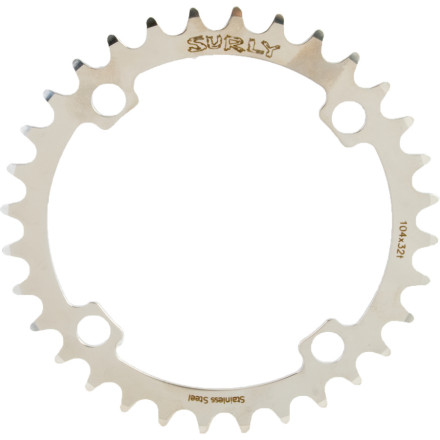 Detail Images
Most chainrings are made out of aluminum, which is 35% softer than stainless steel. Surly's Stainless Steel Chainrings are made for singlespeed and fixed-gear applications, which require much more durable drivetrains than standard geared bikes.
Share your thoughts
What do you think of the
Surly
Stainless Steel Chain Ring
? Share a...
Best SS Chainring, But Not 1x
There are two reasons to get an unpinned and unramped chainring: for singlespeed (SS) or single ring but multiple rear gears (1x). This is bar none the best chainring for the former, but not the best for the latter.

For SS, this ring is perfect. The tooth profile is perfect and high and keeps the chain. It comes in a ton of sizes and BCDs (so you can use it on your old 5-bolt cranks or on a CX bike as well) and it's just plain bomber. Steel is real in this case, it is hard and durable and just plain does not wear. There's a good chance it will outlive the rest of your bike. It's not coming off my SS, that's for sure.

For 1x it's not so good. While it's hard, it's not necessarily stiff. This is an issue because when you're in the largest or smallest cassette cog on your 1x your chainline is nowhere near straight and there's significant side load on your chainring. I found that when using it on my 1x9 bike in the extreme gears it would at best rub my chain retention device and at worst it would pull so far off to the side it's get stuck in the chain retention device and I'd have to stop and detangle it. I switched it out with a stiffer aluminum e13 Guidering and the rub was gone at either end. The aluminum is softer and wears faster, but it's stiffer than the thin steel of this ring.

Bottom line: if you're using it for SS, get it and you will not regret it. If you're doing 1x9 or 1x10, I'd instead recommend the Blackspire Mono Veloce, e13 Guidering, Salsa chainrings, or some other aluminum ring with a thicker body profile.
Steel is really real.
Familiarity:

I've put it through the wringer
All-steel SS drivetrains are the best. Pair this with Surly's stainless cog, and you have a recipe for a headache free drivetrain and a hell of a lot more fun on two wheels.
I usually get a couple of years out of a decent aluminum chainring on my fixed gear daily commuter. Based on how this thing looks so far, I'm expecting 3 years or so. Smooth. Silent. Surly.
when moutning my chain to the cranki noticed that the teeth were grabbing my chain. all i know is that when i switched to my stepdads old chain that sucker was like butter. if you go single speed in the front you will most likely need a chain guide.
Looks great and works fantastic. Put one on my commuter bike and one on my jumping/mountain bike. Have been doing my own bicycle maintenance for over thirty years but am now into simplifying. No need for gears that I don't use. The Surly chain ring adds beauty and functionality.