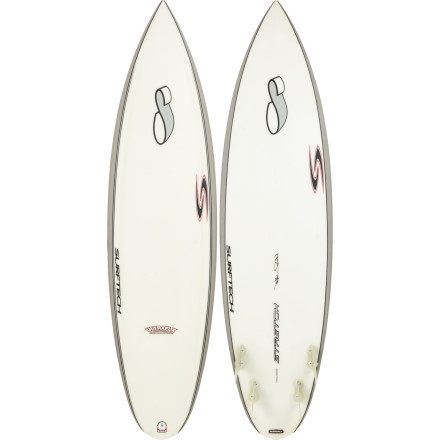 Detail Images
When it's peeling head-high perfect lefts, suit up and paddle out on the Surftech Stretch Round Pin Quad Surfboard. Designed by world-renown shaper William "Stretch" Riedel, the Quad features a unique shape in which Stretch keeps the tail full while pulling the majority of the curve behind the fins within the last six-inches of the tail. Overall, the Quad suits power surfers who are looking for more drive through turns, average riders who want more speed down the line, or those looking to charge big surf.

Its Ultraflx technology creates a flex that closely mirrors the performance characteristics of a standard polyester surfboard, but is way more durable. Thanks to its water-tight fused cell core and Salmon Skin biaxial fiberglass layer, the Quad is able to maintain a crisp flex and soft feel that many riders prefer. Thanks to its FCS quad-fin setup, the Quad is able to naturally scream down the line while providing a wicked solid hold in larger surf and supplying more control with less response time. In addition, a quad-fin setup holds a higher line in steeper waves and generates more drive through a turn. Fins are included.


Shaper William Riedel
2011 model
Intermediate to advanced surfers
Rounded pin tail
Ultraflx construction
FCS quad fin setup
Fins are included
What are the dimensions of the 6'4 and...
What are the dimensions of the 6'4 and volume if available??
Best Answer
I was surprised I was still able to dig up an old 2011 catalog but it must be my luck day. They didn't list the volume for the 6' 4" but the dimensions are as follows:



N - 11.58 inches

M - 19 inches

T - 14.85 inches

TH - 2.4 inches