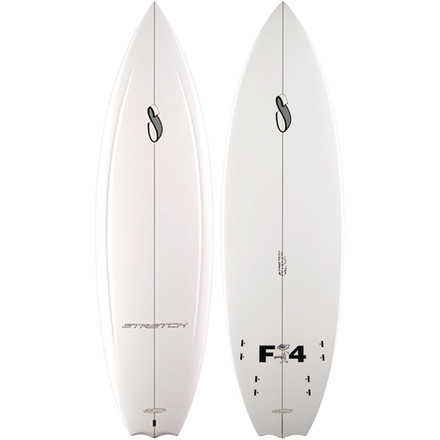 Detail Images
Designed by air assassin Nathan Fletcher, shaped by forward thinker Stretch Riedel, and built by the innovative Surftech, the Surftech Stretch Fletcher 4 Surfboard takes once-experimental design features and certifies them as the next evolution in surfing. A fuller nose and tail straighten the mid-section for ridiculous, pump-free speed down the line. The wide outline combined with the lightweight, durable, and amply buoyant Tuflite construction allow experienced rippers to go two inches shorter—fitting in the pocket better and tightening the turning radius.
The Fletcher 4 uses an FCS quad setup to complement the the board's speed while loosening the back end for a firm, fishy feel. Stretch's bat wing tail design places straight lines just behind the fins and adds release points increasing hold and projection. The fin and tail combo creates crisper, more responsive turns and loads of stability—what else would you expect from Fletcher's boost craft? The longer version of the Fletcher 4 is a fun and easy-to-surf ride for beginners; the shorter version (5'11") is a huck-ready speed stick capable of crushing everything from mini-marchers to powerful overheads for intermediate to advanced riders.
Hybrid design
Low entry rocker
Deep single concave to flared V in tail
Bat wing tail
Tuflite
FCS Quad fin setup
Fins included
Unanswered Question
What is the volume of this board?
What is the volume of this board?