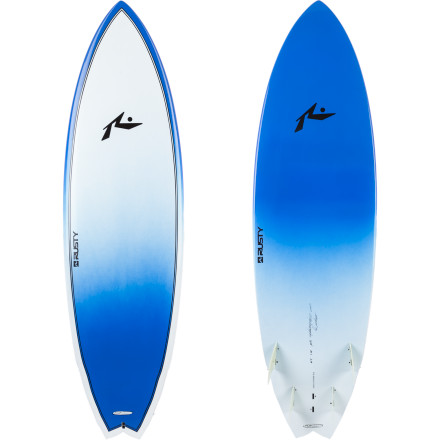 Detail Images
When Surftech's fused-cell EPS core meets pro-shaper Rusty Preisendorfer's Piranha shell, the result is a lightweight, durable short board that's swaddled in an easy-to-mend epoxy shell. This aggressive wave-killer glides quickly and cuts quicker, thanks to its three-wing, pulled-in swallow tail.

Designed by pro-shaper Rusty Preisendorfer to be an aggressive wave-killer that glides quickly and cuts even quicker
Fuller template and low-entry rocker make the Piranha a greedy little wave magnet
Single-to-double concave design features a single concave upfront which provides a good planing surface for drive while a double concave in the rear loosens up the board
Pulled-in swallow tail design gives the Piranha more bite and control in critical maneuvers and when you go into and out of turns
Swallow tail also provides more surface area from rail to rail and allows for planing speed and lift
Three-wing design maintains control and adds extra hold during high-speed turns
Durable, strong, and lightweight Tuflite EPS (fused-cell) core with epoxy coating won't absorb water nearly as much as traditional polystyrene cores and helps prevent deck denting and pressure dings
Tuflite composite is the exact replica of the original hand shape
Five-fin FCS plug system lets you vary the set-up and match different conditions
High-quality FCS fin system uses a fin box that's anchored deep into the board and that grabs the laminates on both the deck and underside of the board for a strong hold from back to front and top to bottom
Rusty recommends riding this board six inches shorter than a performance shortboard size
FCS fins included
What do you think about this product?
Have questions about this product?
Hey I only see 3 size options. I am 6'4"...
Hey I only see 3 size options. I am 6'4" 210 to 215 range. Can I order this board in a 6'4" or 6'6"? According to the Tech Spec it comes in those sizes. Thanks
Hey Justin, it could be that the other sizes are sold out, which is why they don't appear on the variant drop-down.