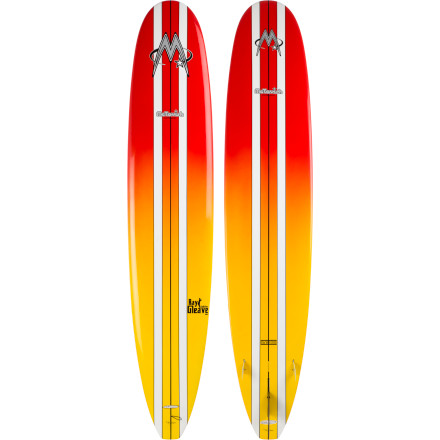 Detail Images
Whether you find yourself looking out upon the surf at San Onofre in California or watching waves peel off the jetty at your favorite Jersey surf spot, the Surftech McTavish Stylist Surfboard lets you ride its nose with style and ease. A point break special, this elegant board is designed to swoop, glide, and noseride like no other board.

Equipped with board shaper Ben McTavish's, three-stage rocker design with nose concave, the Stylist enables long nose rides, while its double concave shape provides positive response. In addition, McTavish incorporated nose bevels for stability while walking and noseriding. Thanks to its square tail, the Stylist digs into a wave while you turn and helps increase the ability of the board to make pivotal and drawn-out turns.
Made with Tuflite sandwich/epoxy construction, the Stylist handles day-to-day use while offering the performance advantages of a lightweight, durable board. Tuflite construction features a water-tight, fused-cell core with layers of epoxy/fiberglass, natural cellulose fiber composite, fiberglass lamination, and a hand-finished hot coat. McTavish also gave the Stylist a FCS 2+1 fin setup with a 9-inch center fin that enables you to use more of a pendulum style of surfing when you use only the center fin. As a result this setup supplies smooth, unbroken sweeping turns and a cleaner, more glide-oriented style of surfing. Fins are also included in the purchase of the Stylist.

Shaper Ben McTavish
Excels in point breaks
McTavish's three-stage rocker with nose concave
Double concave and nose bevels
Square tail
Tuflite construction
FCS 2+1 (9in center fin)
Fins are included