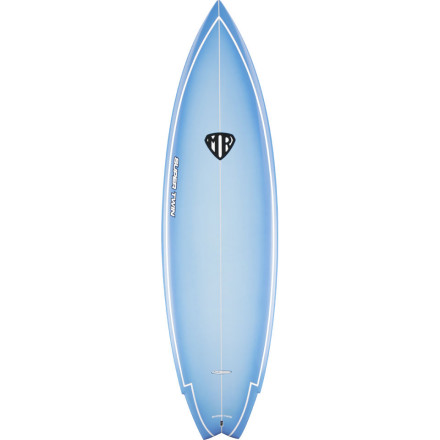 How do you make a proven shape with a twin fin set-up even better? You ask a world-champion surfer turned shaper to craft what he likes and add a center fin to take it from the steady performance of a twin to the aggressive ride of a thruster. Surftech's Mark Richards Super Twin Surfboard features the choice shape of the four-time ASP world-champion with the proven lightweight durability of a Tuflite core. The Super Twin's steep entry rocker quickly flattens through the tail to blend with the narrow nose, wide mid, and pulled-in swallow tail for a seemingly 'supernatural' mix of speed, stability, and agility.
Durable Tuflite EPS (fused-cell) core helps eliminate the possibility of water absorption if you crack the epoxy coating
Well, in perfect glassy surf it rips...
Familiarity:

I've used it several times
Bought this updated 80's shape twin because I have wanted one since the 80's. In fact, I had already bought a blank to shape one when I saw the MR on sale here. I figured the tufflite is strong, so even if I don't like it, it should hold up and we have a strong used board market here in So Cal. Well... What I can say is on well formed waves in glassy conditions it rips. I have gotten some mean backhand hacks and beat some sections I never thought I could. It is so light when you pull a floater that it feels like you're weightless. The downside? I thought "tufflite" was tough (?!). In just a week of surfing I have already put a number of pressure dings on the deck with both my front and back feet. Now I am a big guy (6'2", 205) but I am a little shocked at the deformation purely from surfing it. I have a CI in tufflite that I have owned at least 3 years. I have had none of the same problems with it. I will say however, that I am hard on all boards whether eps or pu/pe. Still, I'm a little bummed the deck is so soft on this board. I wonder if this is an older generation of tufflite as this board is stingerless.
Is this board ridden true to size or shorter...
Is this board ridden true to size or shorter than one's regular shortboard?
I'd size it more like a thruster than a retro twin. It's an 80's shape. Rule of thumb back then for me was 3 - 5" taller than your height. Boards are mid-30's in volume depending on length.