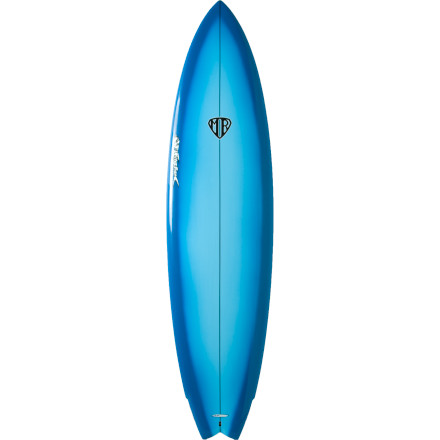 Detail Images
A beach-bound upbringing by his Aussie folks is what made Mark Richards a four-time surfing champion and legendary shaper. The Mark Richards Flying Fish Surfboard blends his most popular and aggressive fish shape cut around a Tuflite core for high-speed assaults in small(ish) surf. Low-entry rocker in the full nose, single-to-double concave that runs into a V-spine, and a thruster set-up under the pulled-in swallow tail is what makes this floaty Epoxy board the number-one choice for aggressive surfers looking for the ideal blend of performance and durability.
Durable Tuflite EPS (fused-cell) core helps eliminate the possibility of water absorption if you crack the epoxy coating
What do you think about this product?
Have questions about this product?
weird, but to each his own.
this board is super long and skinny for a fish, and rides nothing like a fish. It turns like a fun board, has more stability with thrusters instead of a two fin fish set up. I don't like the way it rides on rail and its too much of a log for my liking. Plus epoxy is a wreck to fix, expensive and looks ugly when fixed.
Your specs list this as a 7'6" but I'm...
Your specs list this as a 7'6" but I'm only given the option to purchase a 6'6". Which is it? Because I'll buy a 7'6" version right now if you have one in stock.
Hey there, I apologize that nobody got back to you earlier on this, we had both options and the specs show the option for the 7'6", however, we only have one 6'6" left in stock.
Unanswered Question
What is the volume of the 7'6"?
What is the volume of the 7'6"?