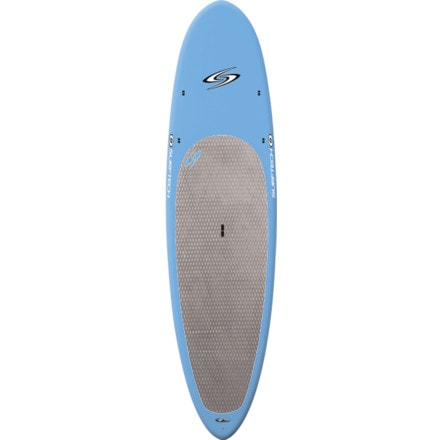 Description
Get the fun started.
Look no further than the versatile Surftech Generator Stand-Up Paddleboard if you're looking for a new wrinkle in your fitness routine, or are an experienced paddler ready to take your paddling skills into coastal waves or a rollicking river. The modern longboard shape makes it adept at riding the waves, but the added width and 4+ inches of thickness provide plenty of stability for open water touring and fitness paddling as well. Full rails and a wider width offer great stability, while the narrow pintail and moderate tail rocker let it carve into waves for sweeping turns and provide smooth maneuverability on the flats. The single fin setup drops a large middle fin for straight tracking, a steady ride, and true longboard-style glide.
The Generator's AST construction features a waterproof fused-cell core with unidrection glass stringers for stiffness, and a fiberglass wrap for durability. Overall, its beginner-friendly width, rocker profile, and volume blend with the performance oriented construction, rails, and shape to create an all-around SUP for riders of all levels and styles.

Longboard shape
Low rocker
FCS 2+1 fin setup
Broad, round nose
Pintail