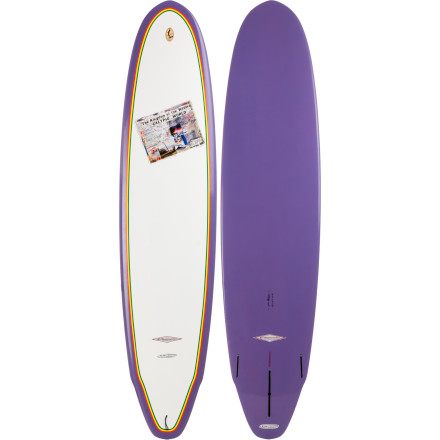 Detail Images
For all you soul surfers out there, there's the artwork and design of the Surftech Channin Tony C Surfboard. Shaper Tony Channin collaborated with long-time surfer and artist Tony Caramanico to deliver you a board with a vibrant color and prints. By keeping journals with mixed words, original art, pictures, and magazine clippings, Tony C has been chronicling his daily surf life for more than 25 years. The Tony C Surfboard features a slice of his beautiful artwork to create a unique, timeless design.
This 8-foot longboard is ideal for a wide variety of conditions and surf. The Tony C's squash tail provides versatility in a wide range of surf and gives you better control in steeper and bigger waves as well as in softer surf. Designed with a soft wing rail, this sweet board supplies a smooth turn transition for sweeping turns.
Made with Tuflite sandwich epoxy construction, the Tony C handles day-to-day use while offering the performance advantages of a lightweight, durable board. Tuflite construction features a watertight fused-cell core with layers of epoxy and fiberglass, natural cellulose fiber composite, fiberglass lamination, and a hand-finished hot coat. Thanks to the Tony C's Futures 2+1 fin setup, you have a broad range of turning for different surf conditions. Fins are not included.
Shaper Tony Channin
Artwork by soul surfer Tony Caramanico
Squash tail
Soft wing rails
Tuflite construction
Futures single fin setup
Fins are not included