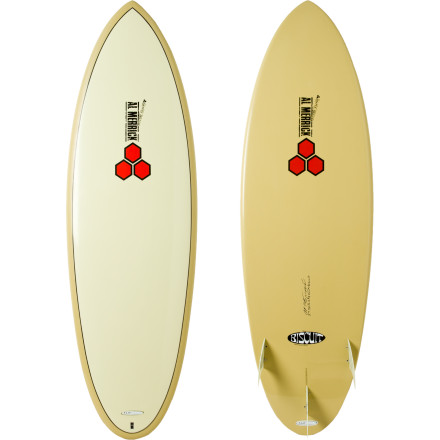 Detail Images
When your plan to ride the gravy train with biscuit wheels fails miserably, you always have the Surftech Biscuit Surfboard to fall back on. It may not supply you with any actual moolah, but it provides you with all of the riches you'll ever need. Designed by shaper Al Merrick with the help of pro-surfer Rob Machado, the Biscuit rides free and easy in the smallest surf while catching waves like a board that's a foot longer.
Order eight to 10 inches shorter than your shortboard
Durable Tuflite EPS (fused-cell) core with epoxy coating virtually eliminates the possibility of water absorption
A rounder tail allows for a looser, more turnable board and provides more stability in hollow, fast surf
Thruster set-up enables the board to perform well under most ocean conditions, and it lends a stable feel to a maneuverable board
I have not received the board yet, however when I went to order it the shipping was going to be $200. I called Dog Funk and talked to a representative and they worked with me to get shipping down to $30. They were very friendly and VERY helpful. I will write a review of the board when it arrives, but for now, I would buy from them again just based on their customer service!
Unanswered Question
I am 5' 7" 150lbs intermediate but haven't...
I am 5' 7" 150lbs intermediate but haven't been out in a few years, going to costa rica north beach break, would a 5'11" biscuit work for me , how would it duck dive?
Unanswered Question
I'm 14 and this has been my first summer...
I'm 14 and this has been my first summer surfing. I went from 8'0 walden to 7'2 southpoint and I am planning to go as far as my 3:2 boot/glove/hood will take me. I am begginer/intermediate, I go out in whatever the waves are like short of head+ depending on the condition. On the soutpoint I can pump and go up and down on the wave pretty well. My board is shaped like a shorty but is a longer model. I expect to go through mid December with my setup and I'm not getting into 6mm or anything. I ant to just finish off my season with the southpoint. However, for next year I want to go shorter, so would the biscuit be good for me at 5'5.5" and 120lbs. I was looking at boards like that, like the firewire "sweetpotato" and the lost "blunt". If anyone can give an estimate on board size, that would be great, as well as which of that short and fat type of board is best. Thanks
Bought this baby on Whiskey for 399.99. Im 6'3 200 lbs...the biggest option was the 5'11!

Took her out the other day in about shoulder to chest high waves with some wind chop.

This board is 2.75" thick at its fattest which floated me well. Kept me up out of the water fairly well. Easy to get into waves...handles real well up and down the wave very snappy.

Only qualm is when it shipped the box was beat half to dealth...only one crack in the side rail about a foot up from the tale. Easily sanded down and filled. I've read mixed things about shipping boards from whiskey and dog funk!

Anywho board floats, paddles and rides well even for my size!
Hi I'm a 5'3" female beginner level. I've...
Hi
I'm a 5'3" female beginner level. I've surfed about 10 times, and am able to pick up baby waves. I'm looking for something easier to duck dive with since im not strong enough to really push a longboard twice my size. What size biscuit should I get?

Thank you!
The board has a ton of volume. It depends on how often you plan on or get to surf and where you surf. If your surfing a few times a week you can go small like the 5'3". I would not get anything over a 5'7" unless you want it to feel more like a funboard but really the 5'7" would already feel like one. I'm 6' 175lbs and got a 5'11" and it's almost to big. The 5'11" would feel like a long board and be pretty difficult to duck dive for someone your size. Channel Islands says to ride it 8" shorter than your normal shortboard so take that into consideration. For the summer here in Santa Cruz Ca it's easily the funnest board I have ever ridden.
Hey there, I surfed for the first time...
Hey there,

I surfed for the first time when back in Australia (my home country) last year around Christmas. I got up in my first session, riding a 7 6' NSP funboard. I sucked of course, but would love to become better. I'm very athletic (5 10' 205) and am wondering if this board would be ok for me. It looks great, and preferable to most longboards. Could anyone give me advice?

Cheers,

Marcus.
Best Answer
It will be a pretty good board for you. It has tons of foam and it is quite stable. It will be a bit more difficult to ride than the 7'6" you were riding but it is definitely workable if you don't want to go the longboarding route.
I live in the Northeast USA and got a 6'7" Biscuit about a month ago. LOVE IT!!! It's super fast down the line, turns very well off the tail, and glides into waves with barely a paddle. I've used this in everything from 1' mush to 6' barreling beach breaks and it's become my one-board quiver.

Customer Service from Dogfunk is A+, the board got to my house in 2 days and the reps are super friendly and helpful.