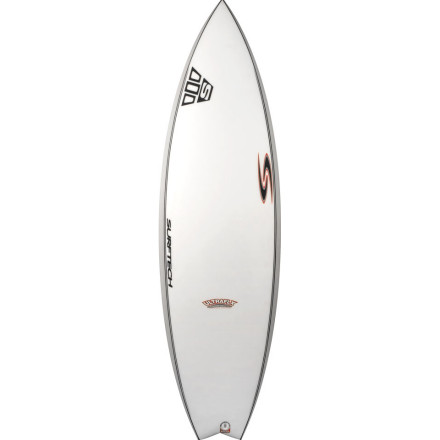 With the Surftech Anderson DK Performance Surfboard lying flat on the sand, you attach your surfboard leash, and study the sets. This hybrid-style board blends the driven performance of a shortboard and the forgiving feel of a fish or funboard to give veteran surfers a sweet ride in sloppy surf or enable less-than-stellar surfers a chance to up their game without becoming too overwhelmed.
Designed by renowned shaper and creator of the three-fin Thruster surfboard, Simon Anderson—the DK is Simon's quad-style board
The DK has the acceleration and maneuverability of a twin fin, but the feel of a thruster
A slightly wider swallow tail allows water to flow freely between the two pins (pivots) which gives you more drive in weaker waves
Low nose entry keeps more surface area on top of the water so you can generate more speed when you paddle and surf
Moderate tail rocker increases control and loosens the board up to change directions and make more pivotal turns
Single to concave bottom design reduces the tracking of a single concave and allows for a fast ride and a loose feel
Ultraflx construction (Fused cell EPS core with impact epoxy fiberglass and 'salmon skin' biaxial fiberglass) provides a softer flex pattern similar to that of a polyester/PU board, but with the durability you require and a price point that's digestible
A fused cell EPS core also virtually eliminates the possibility of water absorption
Fins not included
FCS five fin setup (again, fins not included) gives you the versatility to set your board up as either a quad or thruster, depending on your style of surfing
Five-fin setup offers you the option to change it up when you want to try something new
High-quality FCS fin system uses a fin box that's anchored deep into the board and that grabs the laminates on both the deck and underside of the board and offers a strong hold from back to front and top to bottom
FCS fin box can only be used with FCS fins
Share your thoughts
What do you think of the
Surftech
Anderson DK Performance Surfboard
? Share a...