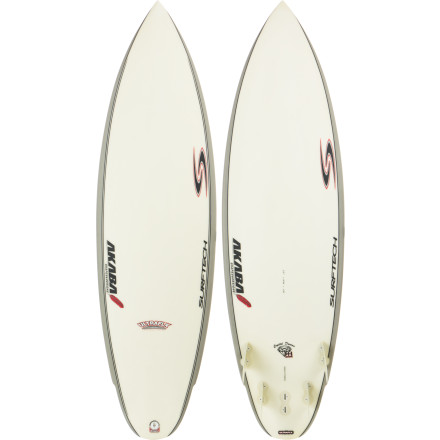 Detail Images
With the Surftech Akaba High-Performance Surfboard tucked beneath your arm, you study the water, take note of the amount of time in between sets, and scout out the easiest area to paddle out. It's always fun, yet intimidating to some degree, to surf a new break, but with this quality squashtail short board and your powerful paddling skills, you'll figure out the surf in no time. Thanks to the Akaba's squashtail design, this unique board offers a quick, snappy turn release and ample floatation, making it ideal to use in a wide range of wave conditions between two and eight feet in height.

In case you're worried about whether this board will hold up after numerous rides, don't be, as the boys at Surftech equipped the Akaba with Ultraflx technology for increased durability. Its water-tight, fused-cell EPS core ensures that the Akaba maintains the crisp flex and soft feel that you prefer while ensuring years of life. Plus, you're going to dig its FCS 5-fin setup which offers superb versatility and numerous fin setup options.

Usuke Akaba shaper
Ideal for a wide range of surf between two and eight feet
Short board
Squash tail
Ultraflx (EPS/sandwich epoxy)
FCS 5-fin setup
Includes FCS Stretch quad set
What do you think about this product?
Have questions about this product?
what are widths of each of the board...
what are widths of each of the board lengths, respectively?
5'6" x 19.25" x 2.38"



5'8" x 19.6" x 2.4"



5'11" x 19.75" x 2.6"