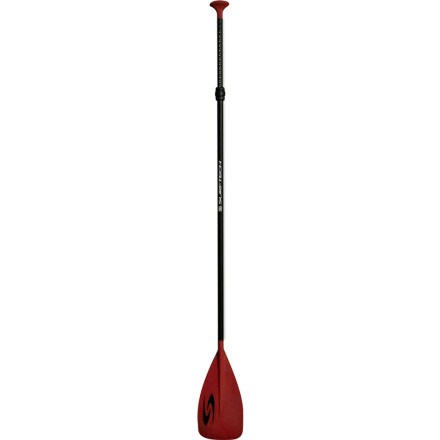 Colors

Community Images
Description
One paddle for the whole family.
When the entire fam-damily wants to learn how to SUP, start small with a single Venture Aluminum Adjustable Stand-Up Paddle from Surftech. With this adjustable paddle, everyone in your crew can learn to SUP without you having to spend substantial dollars on individual paddles. Once you're sure the SUP bug has bitten and is firmly affixed, then consider investing in individual propulsion devices. Until then, this durable paddle will serve the balance-challenged beginners as well as the slightly seasoned river rats well as you SUP over smooth lakes, little waves, and everything in between.

The aluminum shaft is hardy and durable. Beginners can bash the shaft against the dock, the water, or the SUP without fear of causing permanent paddle injury. Up top, the T-Grip handle fits naturally into most people's paws so you don't suffer claw cramps in the middle of your SUP lesson. The plastic blade won't inflict fatal wounds on an inflatable SUP and shouldn't show chips or chinks of accidental contact with solid, inanimate objects like rocks and docks. A slight angle to the 8.5-inch wide blade makes it easier for you to slip the paddle into the water and slide it out. With a range of lengths from 67 inches all the way to 83 inches long, you'll be able to fit almost every SUP-ing family member with a single paddle.

Adjustable aluminum shaft, 67-83 inches
Plastic blade
T-grip handle
8.5-inch wide blade
12-degree blade angle
41.5 ounces