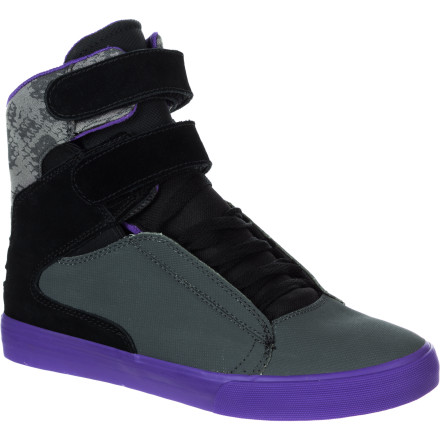 Detail Images
Ever heard of a technical skate shoe? We have. Well, now we have. The Supra Men's TUF TK Society Skate Shoe combines a ton of cool features to make your day of skating safer and more comfortable. Two hook-and-loop straps around the ankle let you dial in a ton of ankle support, and the internal neoprene lining wicks sweat away from your manky dogs to keep you dry and comfortable. The proprietary SupraFoam midsole absorbs impact across the length of the sole of your foot, while allowing for optimal board feel.
Rubbish?! Totally disagree!!!
I don't know what this other dude is talking about but these shoes aren't "rubbish" and seriously who says that anymore? I've got a pair i skate in when my SkyII are extra stanky and the limited Rising Sun release for just wearing around and I have never had problems with either. Solid construction
first pair i ordered the laces ripped out after 2 hours..so sent them back got another pair and they ripped while i was putting them on..terrible shoes..these wouldnt last 5 mins if you were skating in them
Supra shoes fit my foot like a glove and they look dope, why do you buy the shoes you do?
Unanswered Question
Why don't you restock on more supra tk...
Why don't you restock on more supra tk society's?? I very desperate on buying the Supra Tk Society Green Gunny TUF or the Fiberglass tk society. And as the prices on this store is amazing I would purchase over and over if you'd restock on thoose shoes or in general supra tk societies. but fiberglass are my dream shoes though.. the tk society. If you won't be restocking on them, any ideas where I could buy then for a reasonable price? at 100-130 USD $ and I use size 43 european and 9,5 in the US !! pleaseee size 43 in fiberglass ! :D:D:D
Why is there only 1 pair of Supra Tk Society...
Why is there only 1 pair of Supra Tk Society on this website? Where can I buy a Rose Gold size 11 Supra Tk Society online without having to worry if it's fake or not? The reason is because I can't find a pair ANYWHERE and seek help.. Please, if anyone can give me a reasonable answer and not a crappy one stating they don't sell them right now anywhere, I'd be much obliged.
The Rose Gold color of the Society is an old colorway. They'll be hard to find. Check out Supra's website for all the current colors. Their website is www.suprafootwear.com
Are these shoes 'true to size'? Do they...
Are these shoes 'true to size'? Do they run small or large? Tks.
They run pretty true to size. Just buy your normal size and you'll be pretty good. If they dont fit, you can always send them back.
Supra Tk Blue Crackle TUF
These shoes look absolutely amazing, but...
These shoes look absolutely amazing, but I was wondering, how good are they for skateboarding? I'm just not sure whether they'd be too restricting round the ankles or whether the griptape would just shred them?
Supra makes this amazing stuff called TUF and this TK is part of the TUF series. TUF is made to with stand the punishment of grip tape and is some of the best in the industry. Lace these up and do up the straps and you should have a fine pair of shoes that destroy your grip tape before it destroys your shoes.