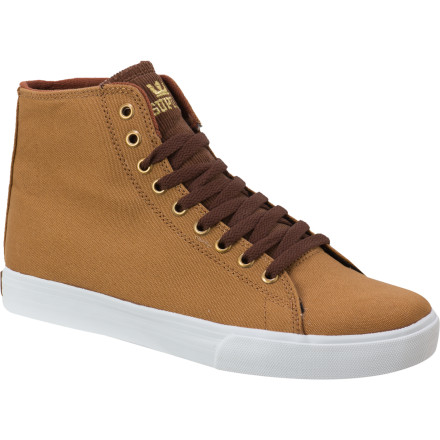 Detail Images

Community Images
Take your old chucks, add about fifty years of rock n'roll, backstage passes, and free booze, and you're just starting to get close to how legendary the Supra Men's Thunder High Shoe is. Vulcanized for skate perfection, but freaky like styles from the early Michael Jackson videos, this Supra hi-top skate shoe is bad, thrilling, and dangerous all in one. SupraFoam cushions impacts, a comfortable lining cradles your footsy in lushness worthy of a Swiss bordello, and an embossed Supra logo on the tongue reminds you that Jim Greco is still king.
I got the Black Action/White... They are sick. I love the look and they are soooo comfy.
Awesome Kicks Comfy Feel inside them only problem is the shoe laces that came with it i bought my own and looks great
good fit and comfortable.
My first time getting those jim greco signature.. Very nice shoes looks sick everywhere.
Classic style. Pf Flyers you can skate.
I picked these up a couple weeks ago in Blue. Super comfy and killer style. I feel like they look similar to some 1940s PF flyers. We all love The Dogout, and this style is on point.

Anyway, these size up similar to Skytops. I size down .5, with these, which I do with all vulk soled shoes. I got 9.5s, when I would normally be a 10, in something like Nike Dunks or other cup soles. If you don't know what I mean by different sole types, google around and you will find it pretty easy.
Yea they are hella comfortable... they look plain but they are very sleek get some and money well spent
These have amazing support, comfort and style. They have great board feel as well.
old ankles love these shoes!
I have been skating for over 20 years and my ankles are weak from rolling them numerous times.. I picked up a pair of thunders because I needed the support but didn't want to sacrifice my board feel. These things rule and have already saved me from jacking my ankle twice.