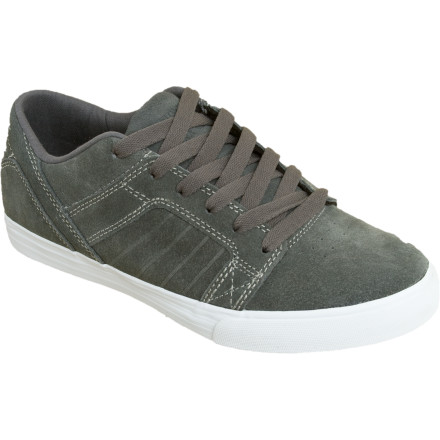 Detail Images
Throw the Supra Men's Chad Muska Skylow 1.5 Skate Shoe on your feet before you head out to shred every inch of the streets. With respect to Muska's sick skills, Supra injected the midsole with SupraFoam to resist impacts from huge drops and give you enhanced board-feel on your rail slides. The internal neoprene toe cap stands up to your flips, grabs, and bails, and the foam tongue dials in your fit for a long day of shredding. The slim-fit design gives you a classic look whether you're hopping a table or running from a rent-a-cop.
Im trying to find a certain pair of Chad...
Im trying to find a certain pair of Chad Muska's -- Does anyone know which pair(s) has a secret hiding spot aka "Stash Spot" in the tongue or any where else in the shoe for that matter?

I guess its not much of a secret anymore... leave it up to me and my big mouth to spill the beans :) but ya if anyone could let me in on it that would be awesome.

Thanks!!!
Check out the Skytop 3. Those have what you need.
These shoes are awesome. I have them in Black/Crock and just got my red ones in today and can't wait to wear them "You know it's gonna be a good night when the red shoes come out". They feel great, especially if you let them get worn in. My favorite thing about them is how basic the shoe itself looks but between the little Supra crown on the back and the bling on the tongue they just have an expensive, classy feel for a skate shoe. I've gotten lots of complements on them.
red ones are sickkkkk.. just gotta be careful the color bleeds a bit when it gets wet.
This shoe looks tiight But are the red...
This shoe looks tiight

But are the red ones slightly darker or lighter in person?

Thanx
The image we have for the Supra Muska 1.5 in Red is pretty close to correct. It is pretty bright. If you go to the official Supra website you will see an image that shows the detail a little better. There is a good mix of material with the Supra Tuf material and suede. The Tuf will pop a little making the suede seem a little darker.
it says 20% off but wouldn't that mean...
it says 20% off but wouldn't that mean that these should be $67.16, but i'm def. getting a pair it just depends if it is going 2 be tomorrow or next Friday, so if you the answer please post.
Would this be a good running shoe?