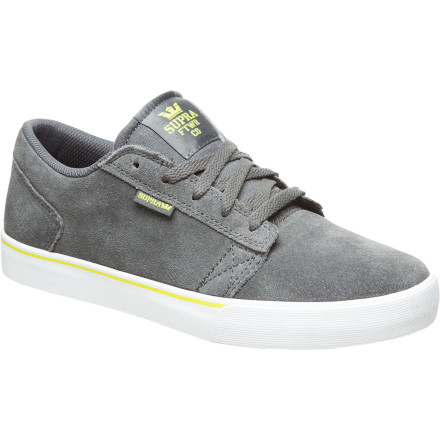 Detail Images
The Supra Amigo Skate Shoe features a durable suede upper and a reinforced ollie zone to withstand the abrasive relationship between your shoes and the griptape on your deck. The comfortable canvas lining provides comfort and lets your foot breathe easy when you're sweating ballz walking up and down that 10-stair trying lay some some hammers down. Supra laced the Amigo up with the cushioning power of SupraFoam for when your tre flips go awry.
Big fan of these shoes.
Simple, reasonably priced, comfy and hold up well.
Supra has the best vulcanized soles I've come across, and I've tried quite a few. The shoes require little break in and have great board feel but the soles aren't flimsy and don't fall apart like those from a certain other brand best known for its vulcanized soles. I'd definitely recommend these to anyone looking for a nice no nonsense shoe that holds up pretty well. Excited to try some more Supra's.
The black suede Amigo's look great. They're really sleek, not bulky like most DC's and not flashy at all. The shoes I got had a white Supra logo, not the red which is kind of weird but they're great shoes, comfortable too but a little bit narrower than I'm used to.
I initially ordered a pair for skating. Unfortunately, they are too narrow to fit my foot with regular socks. However, I upgraded them to wear with Dockers and no socks out on the town and they look great! Hazards of having gorilla feet I guess. I would recommend them to anyone with more of a narrow foot. Excellent buy!
does this ship to australia if so how much...
does this ship to australia if so how much and how long will it take cheers..
i just bought some and im from brisbane australia. It was about 60-70 bucks i think? all up a pair cost me 112.79 (AUD) the shoes themselves were only like 49-50 bucks the rest was shipping.
Good skate shoe, amazing board feel, great flick
I skated a pair of the Khaki ones about a month back. I love this shoe because of its basicness....I know not a word, but still. The board feel is really great and the shape of the toe makes it have really good flick. The seamless toe make it really hard to rip through. I love Supra's suede because it lasts a long time. All in all worth 58 bones.