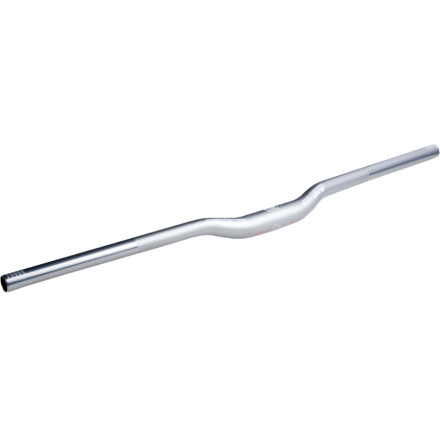 Detail Images

Community Images
The Sunline V1 OS Handlebar gives you all the control that you'll need to clean that descent you've been eyeballing all season. Unless, of course, it's way out of your league ... in which case you'll probably hurt yourself. With its 28- or 29.5-inch width and nuke-proof, triple-butted, tapered 6061 aluminum construction, you just lost another excuse to not be keeping up with the big boys.
Share your thoughts
What do you think of the
Sunline
V1 OS Riser Handlebar
? Share a...
Not as light as claimed weight
So I just got the 711mm width, 19mm rise bars from Chainlove and they do look nice and are definitely decent quality bars however the claimed weight is pretty far off. Says it's 260g for bar size and rise I purchased but on my parktool it came out to 301g. So 1 star off for not being honest but 4 stars because it's still a damn nice handlebar for the price.
I have a pair of V1's on both my gravity bikes and refuse to run anything else. (maybe I'm being closed minded but I truly love these.) They feel awesome in every situation, and the mix between rise, backsweep and width they couldn't feel any better! ...I also run my grips about 1/4 inch over the ends for added width...kinda sketchy but you gotta do what you gotta do.
Love the width and colors
Great bar. One of the best upgrades to be had for the money of this bar. I went with the bar and stem combo from Sunline and I love it. Total bling and functionality!
nice bars and at the price from h&r/cl, they are unbeatable.

i've always like easton bars, but went from those (711, dh carbon) to the 711 sunline. small penalty in weight, but the carbons were getting old.

then moved to the 745 length. didn't seem like much difference visually, but i was more conscious of it through tight spots. handling was very good.

downside is the weight of the 38/745. big jump from the 38/711 or the 19/745's, but the weight penalty of these bars are worth it. would have to go carbon to make a significant difference.

so, cl, how about a 750mm carbon dh bar?
This bar is solid, stiff, and comes in a variety of anodized colors at a reasonable price. What's not to like?

That said, it's not a featherweight; the high rise version is over 350g. It went on my AM bike, not on my racing hardtail for that purpose. It's certainly not a boat anchor, but it's more weight than one would want for a race bike.

I wanted to like the 745mm width but it was just too wide for me. Luckily, this thing has built in cut guides on the ends so reducing it to 711mm (just perfect for me) was simple and easy.

Bottom line, it's a steal at the sale price and I really like it; it's completely free of flex, shaped nice, looks nice, and all around a fine bar.
I never thought I'd need 745mm bars and anything smaller than a DH/FR/park bike, but after trying it on a big bike, I went wide on all my bikes. Definitely improves your handling!

I love Sunline. They seem to be perpetually on sale, but I don't know why. I can't find anything wrong about them. They're proven in races, so I'm not worried about their rep. They even come in colors! The sale price is just another plus.
19mm Rise and 745mm length is the perfect combination Bar for DH Racing. My Yeti 303 loves it and I am having a blast with it!
Could not get a better bar. Love the bars for freeriding also use for downhill. very light bars. awsome feel very stong.. would buy 10 times over. hucknroll rules love there shipping and customore service.
This bar is soo sick. Handling improves ten fold. Go git ya some
These bars are solid. They feel good, look good, and are damn light for their size. Grab hold of some 29.5 width and change your game/
weight for these handlebars?
weight for these handlebars?
Varies by width and rise. Specs are on Sunline/661's site: http://www.sixsixone.com/Catalog_SunlineCycling.aspx?id=bfc44c38-82c2-4147-9879-683ddebcb7be&product=04fdd234-b9bf-49bf-b28a-058424214410

711mm width, 19mm rise: 260g
711mm width, 19mm rise: 277g
745mm width, 38mm rise: 311g
745mm width, 38mm rise: 357g

I'm not sure I trust that, though, since it says the weight difference between mid and high rise on the 711mm is 17g while the difference between rises on 745mm width is 46g, which doesn't make sense to me. I just ordered the 745mm in 38mm rise, I'll weigh it when I get it and let you know what it is. I may cut it down to 710mm, if I do I'll weigh that as well.
This bar freakin rocks. The width is perfect. I don't feel like I'm on a clown bike or a motorcycle. I got the 19mm rise and I love the more aggressive feel it gave to my bike. Plus it looks pretty damn good.