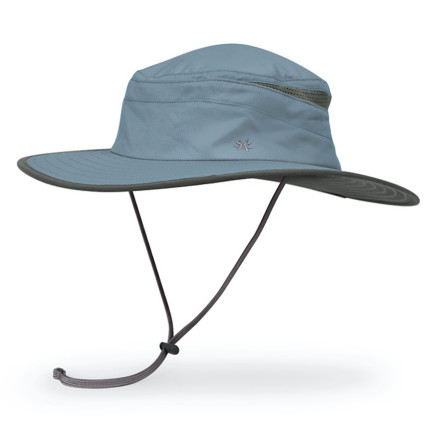 The sun's rays hit the desert and warm its rocky surface before breakfast, so if you want to explore the strange terrain you'll need the Sunday Afternoons Sojourner Hat. This sun hat's UPF 50 fabric and 3.5-inch brim prevents sunburn on your head, neck, and face so you don't dry up like the cracked mud beneath your feet.
An elastic headband and a chinstrap drawcord secures the hat in the breeze
Moisture-wicking sweatband and mesh lining keeps your brow dry and cool while the laser matrix ventilation ensures breathability
Water- and stain-resistant fabric keeps your head dry in passing showers
Interior crown pocket holds small essentials like a car key
Dark underside of brim reduces glare
Unanswered Question
can this hat be "crushed" in a suitcase...
can this hat be "crushed" in a suitcase or backpack without ruining it.
Nice hat ruined by shipping & handling
True to size. Nice coverage. Unfortunately, as another customer stated, the hat came with a broken bill due to poor shipping and handling. I won't replace it with any backcountry hat since I would expect more of the same result. Pity.
After measuring my head as per the sizing instructions, I bought this hat in size medium. It was too snug, so I bought a size large. That was too snug too!! So I decided that the elastic headband built into the hat, the one that keeps it on your head, is just too restrictive, and it wasn't the hat size. I could just imagine myself baking under the hot sun, with this thing squeezing me around the forehead and temples, and the ensuing headaches.

I really didn't get a chance to try the hat out though, because Backcountry shipped ALL THREE OF MY REPLACEMENTS in a FLEXIBLE PLASTIC ENVELOPE so that by the time I received each of them, they were folded in half and DAMAGED BEYOND REPAIR!!

Each time I called to explain what had happened, the customer service reps and one supervisor were all very polite and apologetic and said they would fix the problem with whoever was packing these in the fulfillment house, but bottom like was they didn't. I refuse to accept damaged goods so I sent them back. After three strikes, and no one contacted me back, I give up on ordering hats.

I suggest if you want to buy a hat from this company, order something else large enough so that they put your order in a cardboard box, because otherwise they will ship it in a plastic envelope again and YOUR hat will come in the shape of a taco too.

Wish I'd taken a picture so you could see, but I really expected them to be able to correct the problem. I'm very disappointed that Backcountry could not fix their own internal problem. :(
A wide brimmed hat that can take the breeze.
Other hats I have for sea kayaking fold over my face when the breeze picks up; not this one!
The elastic band is sewn only on one edge creating a gentle retention that does not constrict on the head but stays put.
A great hat that seems well made and should last.