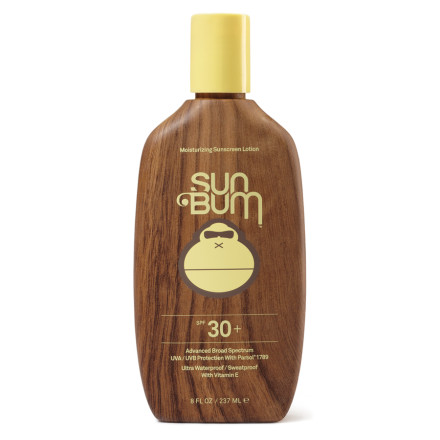 You may love the sun, but your skin's relationship with that giant orb in the sky is a bit more complicated. In small doses, sun shine is great, but extensive exposure can subject your skin to large levels of UVA and UVB rays, which can cause premature aging and the development of free radicals. Show your skin some love when you lather it up with Sun Bum SPF 30 Sunscreen Lotion.
Hypoallergenic ingredients won't irritate your skin
Sweat- and waterproof formula means it won't come off the second you take a dip in the water
Paraben-, PABA-, and oil-free so it won't coat your body with unnecessary chemicals or grease
Enriched with Vitamin E to nourish your skin and help prevent free radicals from developing
The only problem I experienced with this product was my careless friend not applying it thoroughly to my back... otherwise it was great. Smells quite pleasant as well, which in a category with such minimal differentiation is a huge plus in my book. AND the bottle looks sort of like wood... these guys nailed it.
Does the trick and smells good!
This stuff works and smells great. SPF 30 keeps my safe from burns yet still gives me a little color over time. It applies nicely, however when I climb I prefer to use my Sun Bum Facestick or the spray on version as the lotion does leave a slightly slick feeling to my hands even after washing it off. Again, the stuff smells great though, and my lady loves when I put it on. The variety of SPF values for this sunscreen is a huge plus!
Sun Bum isn't bad but I prefer Aloe Up. This goes on nice but left a light film on my hand that I didn't like while climbing. If I wasn't climbing it wouldn't be an issue at all. The smell is nice but not my preferred scent. The ladies that I was with loved the smell when they put it on. I like Aloe Up better because it does not leave a film on my hands when climbing and is unscented.
I just tried this stuff out in both the lotion and the spray on version and it is awesome! It seemed to be very waterproof as we were swimming a lot and never had to reapply too many times. I like the lotion better than the spray but the spray is nice for convenience and reapplication. Over all awesome sunscreen! And it smells nice too!
This sunscreen smells really good and it goes on smooth without leaving my hands feeling greasy after application. It also is absorbed quickly so I don't look like a ghost. Oh yeah...and it helps prevent skin cancer.