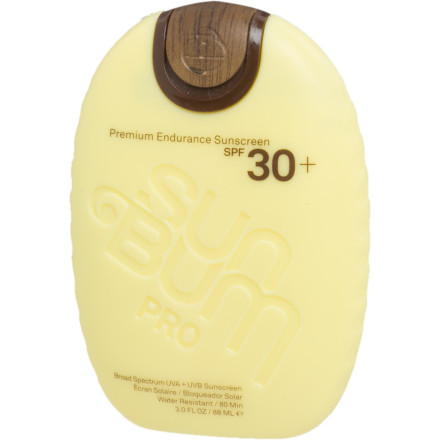 Colors
Good times in the sun usually come with a large dose of swimming or sweating. Lucky for you the water-resistant Sun Bum Pro SPF 30 Lotion protects your skin; its smooth, oil-free formula doesn't feel greasy on your face or run down in your eyes when you're sweating profusely.
Easy pop-top and squirt nozzle for quick application
Comes in a 1.5 or 3-ounce bottle to match the length of your sunny trip
SPF 30+ Advanced Broad Spectrum power blocks direct UVA & UVB rays to prevent sunburned skin
Water- and sweat-resistant lotion lasts for up to 80 minutes in the water
Hypoallergenic lotion (PABA-free, paraben-free, and oxybenzone-free formula) won't react with sensitive skin while vitamin E helps to keep your face and body healthy
smooth rub
Familiarity:

I've used it several times
I love how easy this is to rub in and feels really light on your skin. The packaging makes it really easy to throw in a bag with other gear and the yellow makes it easy to find in your pack or beach bag.
Effective, sure. Safe, NO.
Read your labels people!



Sun Bum does not disclose their full ingredient list; HOWEVER, of their 4 active ingredients (Oxtinoxate, Zinc Oxide, Oxtisalate, and Octocrylene), 2 of them are extremely harmful. Oxtinoxate is one of the top ingredients to AVOID due to its major role in hormone disruption and AGING effects. Its also harmful to animals. Oxtocrylene is both toxic to the environment AND causes cell mutations as it absorbs into your body and accumulates.



Its a GRAS. Generally Regarded As Safe.



Does it work, absolutely. Long Term...wanna find out?
Great Screen!
Familiarity:

I've put it through the wringer
Awesome for sensitive skin, no harsh chemicals, no scent and rubs in great! My only complaint is it is not as waterproof as the Sun Bum Sunscreen Lotion and it doesn't smell near as happy!
All weekend in southern Utah and not a single bit of red. Very happy with this stuff!
I used this all weekend at the beach and didn't get burned...Winning.

It rubs in really easily, which is what I enjoyed most. It has virtually no smell, which I actually didn't like, I love a more tropical scent-sation when applying sunscreen. But those who hate odoriferous screens will just love this.



The reason this screen is better than others is that it contains no harsh chemicals, it's really great for those with sensitive skin. The 3 oz size was pretty small, I don't think it will last me too long, but it was small enough to carry-on the airplane, so there's that. I would skip the 1.5 oz size all together, unless you just need sunscreen for a short trip, that thing is TINY!