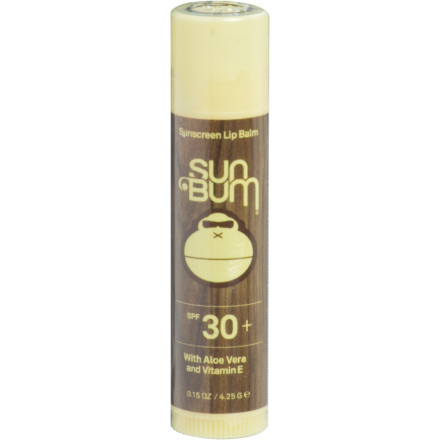 Without the proper protection, the same sun that grants you warm weather for surfing or swimming in rivers can also damage your skin. Thankfully Sun Bum Lip Balm SPF 30+ blocks the UV rays from burning your lips into a red and peeling mess.
In a standard plastic lip balm tube for easy application
Banana flavored to keep you and your spit-swapping partner happy
SPF 30+ power blocks direct UV rays and helps prevent sunburned lips
Aloe helps sooth chapped lips while cocoa butter and vitamins A, C, and E help to make your skin healthy
Petrochemical and PABA free so you know you're buying an eco-friendly product
It has a faint banana Popsicle flavor to it as well. mmmmm! :)
smells amazing, not gooey
This stuff smells SO GOOD. It's not really thick and gooey like Alba lip balms, but it smells just as amazing and contains SPF 30. What's not to like?