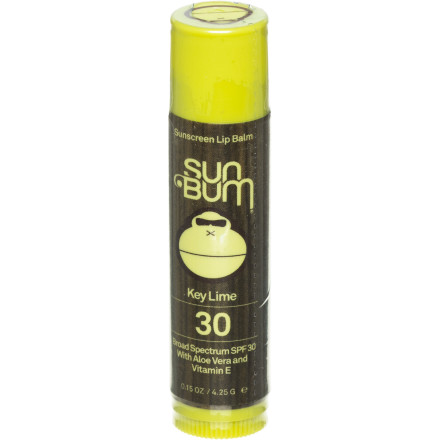 Colors
great stuff but the flavor...
Familiarity:

I've put it through the wringer
I am not a flavored chap stick kinda guy. I rarely use the stuff excepts for high elevation pursuits. It does the job. Sun protection is the main goal. Now for the flavor.. I could pass. I bought Pomegranate I could only do a berry since there isn't a plain or something. That being said, my lips are not burnt and dry.
Just ok
Familiarity:

I've put it through the wringer
I purchased the coconut flavor , it does taste very good, a little too good, maybe. The scent and taste is a bit too powerful for my liking.

I prefer chapsticks that are thicker and stay on for quite some time. This is a thin formula that I need to reapply to feel like my lips are getting hydrated. The good thing is the SPF.

Will I buy this again, probably not.
Wanted to try this balm after all the great reviews and had been looking for one that had some spf. It's true, it smells so yummy and application is smooth but man it tastes awful. (Purchased the mango) I was in no way trying to eat the stuff- yet every time I rubbed my lips together, I'd get some product in my mouth, it'd make me cringe and I had to run to the sink to spit it out. It was like a really bad mix of artificial sugar and perfumed lotion mixed together. :( the scent is amazing but I didn't buy this for my nose.
Lip Smackers for Adults
Familiarity:

I've put it through the wringer
I fondly recall the days of my childhood, wearing a glistening yoke of string around my neck upon which dangled 14-16 of my favorite LipSmackers Lip Balms...because, you know, every 9 year old needs OPTIONS when the need for lip moisturization occurs.

They were sparkly, bright in colors, delicious and smelled like candy. In fact, I probably ate them straight from the tube like a popsicle.

The bad news: It's no longer appropriate to wear 15 shades, colors and flavors of LipSmackers around my neck.

The good news: These Sun Bum Lip Balms are secretly disguised LipSmackers (Note: this is only a hypothesis).

They smell like DREAM. They contain no glitter (blissfully), and they are delicious while rolling on with the smooth action of a mermaid slipping through a kelp forest. I must restrain the urge to eat the balm straight from the tube as I once did - they are that delicious. I opted for Mango, I'm going back for more, captain.

I have not yet awarded this product 5 stars because I still have to perform one critical test.

Will the balm survive 140+ degree temperatures in my black Subaru on a blistering summer day in the cruel heat of the Utah desert without liquefying?

Most brands don't pass the aforementioned rigorous test.
I've only found Burt's Bees Pomegranate flavor to survive the test.
If SunBum can do it, I will update my review to 5 stars and die happy.

That is all.
Thank you for reading.
Pink Grapefruit
Familiarity:

I've used it several times
This is not your Granny's breakfast pink grapefruit. It goes on super smooth and makes the lips subtle. Love it.
I have one of every flavor. My favorite is the Pomagranite. I never get sick of it and it works great both for moisturizing my lips as well as preventing sunburn. I definitely recommend trying out some Sun Bum!
I used to be obsessed with Burt's Bees...until I came across this banana Sum Bum in a surf shop. When it ran out I couldn't find it anywhere. Thankfully, Dogfunk always have what I need!
Lip protection you will love!
Gender:

Female

Familiarity:

I've put it through the wringer
I decided to try the SunBum lip balm after using the sunscreen all summer. I got the mango flavor, it smells amazing keeps my lips from getting chapped whether I'm hanging out in the sun or riding on the mountain!