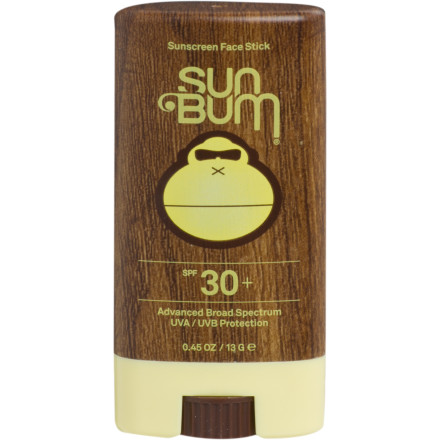 Colors
Description
Simplify things with the Face Stick.
Make life easier for yourself with the Sun Bum Face Stick. Gone are the days of mixing sandy hands with sunscreen and trying to hold your little grom down for minutes while you apply sunscreen. Thanks to its effortless application, all you need to do is swipe this sunscreen across your or your kid's face and then hit the hill.
Broad spectrum UVA/UVB protection screens your skin so you don't look like a bag of wrinkles later on in life
Hypoallergenic ingredients won't irritate your skin
Sweatproof and waterproof formula means it won't come off the second you take a dip
Paraben-, PABA-, and oil-free so it won't coat your body with unnecessary chemicals or grease
Enriched with Vitamin E to nourish your skin and help prevent free radicals from developing
Smells Yummy
Familiarity:

I've used it several times
I hate to admit it, but I never wear sunscreen. I hate the slimey, greasiness of it. This sunscreen stick is the only exception I've found. On days I know I'm going to be climbing in the sun for a long time I always put this on my face. It is a little sticky for the first 5 mins, but after that I can't even tell I'm wearing sunscreen - aside from the awesome banana smell. If you don't like strong scents don't buy this. This stick is like a mini deodorant bar. It is small enough to bring on flights or pack in a bag/purse.
Just about as easy as it gets
Familiarity:

I've used it several times
My wife is always asking me to put sun block and I hate it, But the face stick was easy and made no mess! Two thumbs up.
Handy protection
Familiarity:

I've used it several times
This little sunscreen buddy is great for keeping in your bag and is travel friendly. I am a semi fair skinned red head, which means getting caught out in the sun without sunscreen can be bad news bears. I now keep this sunscreen in my bag wherever I go for a quick application when I have forgotten to apply sunscreen before leaving the house. I also like that I can travel with it on airplanes so that I don't have to buy sunscreen when I arrive somewhere for a weekend trip (Sunscreen is not cheap).
The first time you use it the stick feels a little stiff, but once you get it going it rolls on smoothly.
Purse and Golf Bag Friendly
Familiarity:

I've put it through the wringer
I bought 2 of these bad boys and I'm not disappointed! After a few trips to the dermatologist, I was looking for an on-the-go sunscreen that I could stash in my purse without worrying about it leaking everywhere. This is so perfect! I love the banana smell and it's not greasy AT ALL.



My new found sun-protection obsession was not only limited to myself, I picked up one of these for the golfer boyfriend to throw in his bag during his practice sessions. He usually avoids sunscreen because of the greasy residue it leaves behind on his hands (definitely not ideal for golfers). Sun Bum to the rescue again! No need to even TOUCH the sunscreen itself! He just swipes it on his neck and face and he's good to go!



Love this stuff!
everyday
Familiarity:

I've put it through the wringer
I use this facestick almost every day before I go out in the sun. whether I'm on the boat or climbing rocks, I always keep this with me. It smells great, feels great and works great. It is in a very convenient size and can usually fit in my pocket.
keep this in your pocket!
The stick is really easy to use and has only a faint scent to it. It's one of the few sunscreens I've used that don't feel greasy on your face. The stick fit perfectly in your pocket or purse.
I really hate slathering greasy sunscreen on my face and I'm pretty picky about what I will and will not tolerate for facial sunscreen. This has a delightful banana-esque smell and a not-too greasy feeling. It's somewhat waxy in texture upon application, but it quickly absorbs into the skin. Most importantly, it didn't make me break out (many sunscreens do)...oh and I didn't get sunburned, I guess that's rather important as well.

I found this product to be much smaller than I imagined, about 2 inches in height. But I agree completely with Cody, this is an awesome trick to tuck into a pocket for re-application around the noon hour! I've also popped it into my dry bag while paddleboarding, it's definitely travel/adventure size worthy. I LIKES IT!
This rubs on with ease much like a clear deodorant, but with more of a waxy feel. Neutral smell is always nice, plus It sets right in and you didn't even have to take your other hand off the can of bear spray!
Awesome, Convenient, and Awesome!
Bought it because I Needed it. Now I need to not buy any other Sunscreen ever again. This stuff was super easy to apply, stayed on through sweat, reapplication was a breeze and it was small enough to fit in my pocket and not weigh me down(key if you want to ski more than 2 hours in the sun without going back to the car) Also if you fall it won't ooze out all in your pockets. Not fun, ask my cell phone from last year. For the Price it was well worth it to make sure your Goggle Tan doesn't become a Goggle Burn.