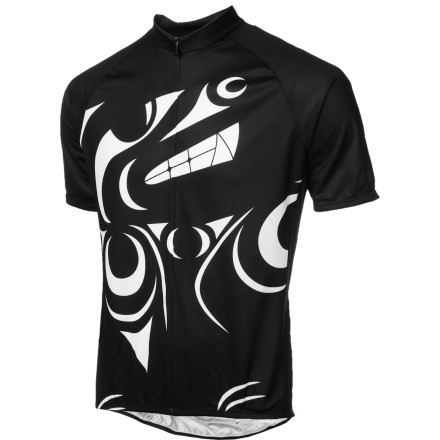 Detail Images
Call it a spirit guide, power animal, or awesome graphic print, but when we're in the saddle, we all relate to the lone-roaming determination of the wolf. That's why Sugoi included a sublimated, Pacific Northwest-inspired print for the Wolf Short-Sleeve Jersey. Maybe by wearing the wolf, you can harness its powers, but most likely, you'll just benefit from the jersey's lightweight, breathable design.

The Wolf Jersey is made from Sugoi's exclusive Finotech 2.0 fabric. Renowned for its highly breathable design, Finotech is a cooling fabric with a pronounced wicking ability that keeps you riding cool and dry in the saddle. The jersey's day-to-day fit is complemented by a minimally-stitchedraglan cut, and an elastic hem and cuffs. The front zipper has been hidden, and the rear of the jersey has three elastic stretch pockets for your long ride essentials.

The Sugoi Wolf Short-Sleeve Jersey is available in sizes from Small to XX-Large, and in the color Black.