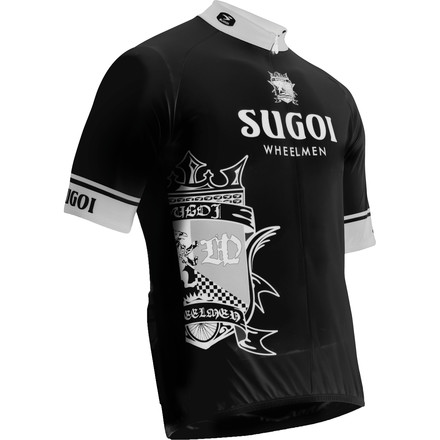 Wheelmen is the endearing name often given to riders who embrace life on the bike — much like calling the seafaring "watermen." Whether you love to tour or joined a Wheelman Club to get faster and toe the start line, Sugoi's Wheelman Jersey will keep you looking stylish while staying cool.
Sugoi's FinoTech fabric was selected for the jersey, as it features a distinctive oval-pattern mesh that efficiently promotes airflow and manages moisture. The soft, brushed inner-layer pulls moisture away from the skin in order to create a cool, dry micro-environment. Meanwhile, the outer-layer has a tougher, abrasion-resistant face.
The Wheelmen jersey features a semi-form fit, which fits to your form but doesn't constrict movement. Additionally, the fabric's four-way stretch provides an excellent range of motion without running the risk of any snagging. The 3/4-length front zipper makes it easy to get in and out, as well as allowing for quick temperature adjustments on-the-fly. Lastly, the three back pockets provide plenty of storage space, and the hem gripper keeps the jersey from climbing up your back during a ride.
The Sugoi Wheelmen Jersey is available in the color Black/white and in sizes Small to XX-Large.