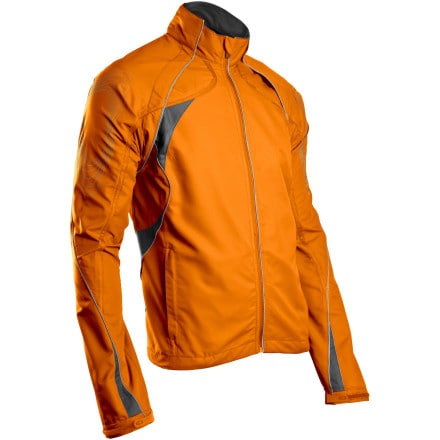 Detail Images
Description
Putting the 'Versa' back in versatility.
Most late- or early-season rides start with a chilly morning and heat up as the day wears on. Knowing this all-too-well, Sugoi opted to address the issue with its convertible Sugoi Versa Jacket. Through the use of magnetic attachments, you're able to easily strip the Versa of its sleeves in a matter of seconds -- all while on-the-fly.
Basically, you're able to start your ride with sleeves, and as the temperature rises, you're able to simply slip them off and stow them away in the single back zip pocket of the 'now' vest. But, you're probably wondering what the difference is in terms of protection level. Well, to start, Sugoi constructed the Versa from its Argon fabric.
Essentially, this material is a woven ripstop nylon, meaning that it's lightweight, breathable, and water- and wind-resistant. This fabric features a superfine construction that feels light against the skin. However, rip-stop is made with a reinforcing technique at the fiber level that makes it highly resistant to either tearing or ripping.
If you're curious to this 'technique,' it involves the use of both thicker and thinner threads. Essentially, the thicker threads are interwoven in intervals in a crosshatch pattern. So, the fabric is given a three-dimensional structure. And given that this 6/6 ratio is still rather permeable, the nylon retains its natural moisture wicking and breathable characteristics.
Argon is both water- and wind-resistant, but at the same time, breathable. So, you'll stay warm and dry throughout hard exertions. At the cuffs, they cinch down over your gloves in order to retain heat. A soft microfleece lining around the collar keeps your neck warm without contributing to any abrasion. And, to keep any air from sneaking in at the bottom, dual shockcords, accessed from the pocket, allow you to pull the hem closer to your body. To let heat out, you simply reverse the process. Rounding at the build, Sugoi employed reflective accents in order to increase your visibility to motorists in low-light conditions.
The Sugoi Versa Jacket is available in five sizes from Small to XX-Large and in the colors Caution and True Blue.