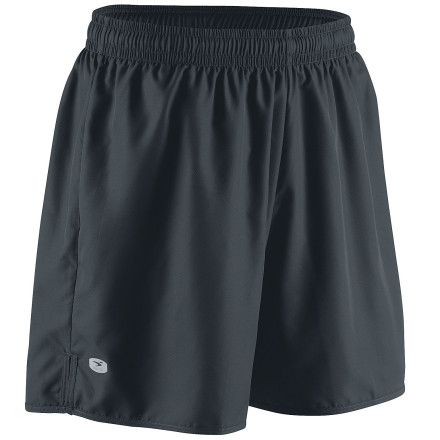 Pull on the Sugoi Men's Spearhead Running Short and lead the attack on your new training program. Moisture-wicking polyester fabric helps keep you cool while 1.5in side seam notches prevent bunching when you hit your stride. A 5in inseam gives your legs enough room to breathe without stopping traffic. Keep your key in the internal pocket instead of praying no one finds it under your back tire.
These shorts aren't too short to be uncomfortable, either on the runner or someone who sees you running in them. They do their job and their isn't much more you need from a pair of running shorts.
Minimal short for serious runners
There not much here. No flashy features, minimal number of pockets. But they just work. The fabric is super light and doesn't get heavy when you're sweating hard. Liner is great: supportive, but not too tight (for me at least - this seems to be something runners can't agree on). Freedom of motion is fantastic. Length (on the short side) is great for running, but you might feel a little exposed if you're wandering around the shopping mall afterwards! For longer runs, however, it might be nice to have a rear pocket to hold gels or energy bar.
The legs are really wide. My wife said they made me look like a dork.
I'm a big guy, so do you have size 6XL in...
I'm a big guy, so do you have size 6XL in these running shorts?
No. Sugoi don't make them that big.