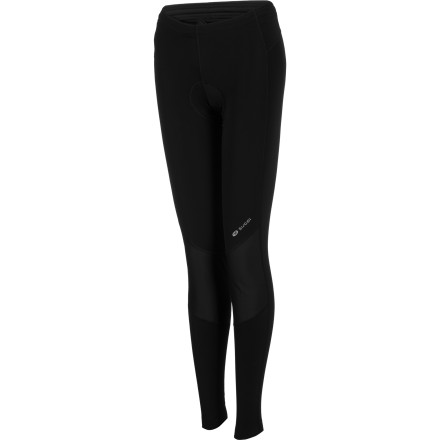 Detail Images
People have a tendency to go overboard when it comes to leg protection in the winter. Simply put, the kinetic energy of your legs generate enough warmth that only a thin insulation layer is required to harness it; you don't need a parka wrapped around your legs. That's why the lightweight Sugoi RS Zero Tights are the perfect choice for multi-season protection. Featuring an anatomical design made from water and wind resistant materials, the RS Zero Tights have everything you need, and nothing that you don't.

Sugoi's RS Zero Tights are made from a sophisticated blend of Sugoi's exclusive Firewall 180 and Midzero fabrics. The Firewall 180 material's light inner brushing provides ideal thermo-regulation while offering optimal breathability and moisture transfer. Most importantly, the fabric is both water and wind resistant. Jointly, the Midzero's stretchy lightweight construction offers light compression and an exact fit. Together, the fabrics act in harmony, providing a consistent insulation layer for a perfect internal temperature that's free from the ailments of sweat or weather without the oh-so-common bulk of rain pants.
The technical fabric selection of the RS Zero Tights are equally paired with an anatomical design. The RS Zero's fabrics create a stretchy knit that's soft and conforming to the leg's contours, accentuating the tights' cut and allowing a full range of motion and articulation. To ensure long comfortable hours in the saddle, the tights feature the seamless, antibacterial Formula FX chamois. The tights also features a stowaway hood for unexpected weather, reflective accents, and dual adjustable shockcords on the two front pockets.
The Sugoi RS Zero Tights are available in sizes from X-Small to X-Large, and in the color Black.