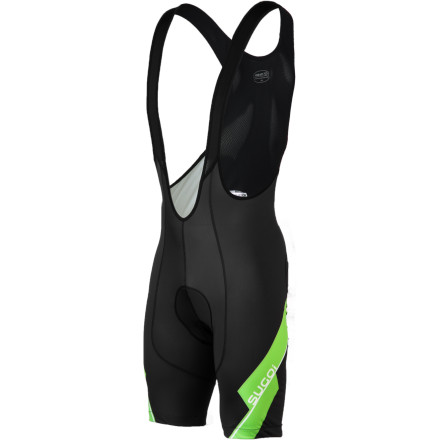 Detail Images
While Sugoi's RSE bib shorts are ideal for servicing the uppermost echelon of cycling, us mere mortals will find that the RS Team Bib Shorts provide features that far surpass our actual needs. With them, you receive the same 10-panel construction as the RSE and a fabric selection that's nearly identical. However, as you'll soon find out, the RS Team is far from a compromising piece.
For the construction of the RS Team bib shorts, Sugoi used its lightweight and highly breathable Shield fabric. This material features a warp-knit construction, which, in turn, provides the fabric with a natural stretch. Within the knit, the threads follow a zig-zag pattern along the length of the shorts. This allows more surface area coverage while using less material, equating directly to an airy, lightweight construction. Additionally, this open weave also accelerates moisture transfer away from the skin to the quick-drying surface of the shorts. As a result, you remain dry over long exertions in the saddle. You'll also find that this material's dependable, firm stretch adds an ideal level of muscle support. So, your legs will be a little more shielded from the fatigue-inducing effects of road vibration.
As for fit, the stretchable quality of the material ensures that RS Team will conform to your body shape within the cycling position. In fact, through the use of a ten-panel design, also found on the top-tier RSE, the bib shorts have actually been formed and shaped around the aforementioned principle. And while this obviously brings comfort, the panels also lend themselves to less conspicuous applications. For example, the leg panels allow Sugoi to keep the inner-leg void of an inseam. This not only reduces abrasion at the leg, but by eliminating a common point of bulk under the chamois, it greatly reduces discomfort at the 'seated area.' To secure the contoured fit, Sugoi placed its breathable and stable Mobil Mesh bib straps at the uppers -- these are also found in the RSE.
At the chamois, the RS Team benefits from Sugoi's Formula FX insert. This chamois features a welded center channel that aids in ventilation, while also contributing to pressure relief. Note that we said 'welded.' In fact, you'll find that the entire surface of the FX is actually seamless. Through a proprietary system of lamination, Sugoi managed to form the chamois without dropping in a single stitch. Additionally, the inserts' four-way stretch ensures that its side panels move with the body, further reducing chafing. In terms of pressure relief and support, Sugoi engineered the FX's shape to provide support to the sit bones while keeping pressure off of the pudendal nerve and ischial region.
The Sugoi RS Team Bib Shorts are available in five sizes from Small to XX-Large and in the colors Black/lotus/lotus/white, Black/matador/white, and White/concrete/white.