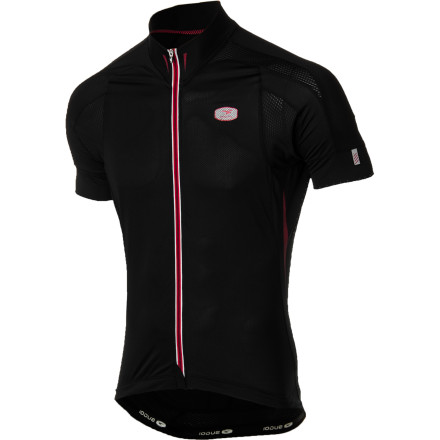 Detail Images
The only thing separating the RS Jersey from a professional's kit is sponsorship logos. Everything about Sugoi's pro-level short-sleeve jersey, from the athletic fit to the advanced fabrics, are intended for riders at the top of their game.
Take a look at the mesh panel at the chest and corresponding mesh at the underarms. The RS Jersey is ready to cool during intensive efforts, and it's not just due to this technical feature. The RS Jersey's Vector Stretch fabric's open-air architecture promotes cooling circulation.
To keep you dry, Vector Stretch's windowed texture promotes rapid moisture uptake and evaporation. The RS Jersey's next-to-skin fit ensures the fabric performs flawlessly, while its anatomic and preformed panels avoid disruptive turbulence from fabric bunching.
Contributing to the RS Jersey's streamlined silhouette are wide elastic sleeves, and a silicone gripper at the RS's hem. Sugoi's RS Jersey comes in sizes Small through X-Large, with five colors available; Concrete, Cyan, Black, Matador, and Lotus.