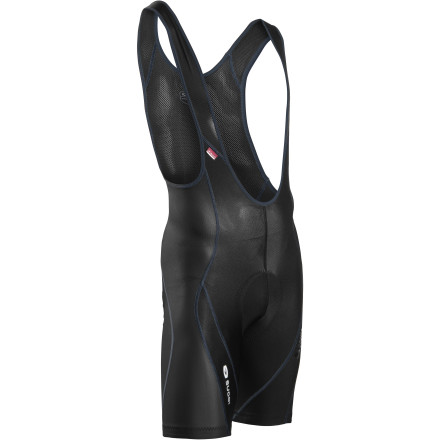 Detail Images
While you don't need to worry about wearing a hole through your crotch like a RAAM competitor, you could still benefit from reduced friction and support during a ride. Sugoi loaded the RS Bib with features to keep your rear happy, your velocity high, and a smile on your face during the final pain-cave dwelling push.
High-density, vibration-dampening Formula XF chamois provides pressure relief while wicking perspiration for long distance
Super ergonomic 10-panel construction provides muscle support for reduced fatigue and enhanced blood flow
Dimpled fabric reduces air resistance for enhanced aerodynamics
Reflective elements for low-light safety
Great service at BackCountry!
Familiarity:

I've used it several times

Fit:

Runs small
When my Sugoi red bib shorts came, I couldn't even get them up to my waist. My other shorts are mediums, but after checking out the sizing chart, I decided to get a large. Kind of funny - looked like when my wife would try to put on pantyhose! When I contacted BackCounty, I explained what happened - that the shorts were way too small. BackCountry provided a return label for me, and shipped both an XL and XXL (just in case), with the understanding that I would return which ever one didn't fit me. Unlike most retailers, they did not wait for my original return get to them before shipping replacement(s). BackCountry supplied return label for the one that didn't fit . . . I ended up with the XXL, the the XL was returned. When I checked a few days later, my refunds appeared on my account. Great service . . . and the shorts are great, too. A little loose in the fanny, but that's because I have the "flat butt gene." Thanks for a good shopping experience. By the way, the sizing chart was way off on this product . . . usually wear medium - had to get XXL in Sugoi Bib Shorts!
Interesting comments
Familiarity:

I've used it several times
I find the RS and RPM bibs from Sugoi to have the smallest and least dense of all the bibs/shorts/tights inserts I have in my collection. That isn't necessarily a bad thing! But, I do prefer a thicker pad, so these are just short distance bibs for me. Quality otherwise seems fine.
Very comfortable
Familiarity:

I've put it through the wringer
Very comfortable bib shorts, however I find the durability to be somewhat poor. I have multiple pairs of these shorts and none of them last more than 2 year tops. I pick up a few pairs every year at the factory annual clearance sale where they can be had at a steal. For close to msrp, there are better choices. I will continue to buy them at clearance price just because the fit and comfort is superb, even if it means going through a pair every year. I'm 5'9" ~145lbs and size S fits like a glove.
Leg is tight but comfortable 4 long ride
Familiarity:

I've put it through the wringer

Fit:

True to size
I usually wear them for road cycling and they are great for long rides and long climb. I love the design and so far my favorite bib. My only complain is that it is hard to put on since the leg is tight. I ripped off the thread while trying to put them on. Once fitted, it feels nice to wear for hours. Another problem I have is that since it is black, I can feel the sun heat on my skin.
Unanswered Question
Is this the 2012 or 2013 style?? I've seen...
Is this the 2012 or 2013 style?? I've seen many RS bibshorts at diferent prices, I really like it but I want to know if this is 2012 or older style thanks.
The Sugoi is by far the best set of bibs I have ever worn, sorry Castelli, Giordana, Verge and LG. The fabric is very nice in hot weather, the pad is great and they will stand up to thousands and thousands of miles. Each of mine have got 10,000 plus on them. The two pair that I have are getting tired, and I have lost about 25 pounds since I bought them so they are on the loose to baggy side. They are XXL, so I decided to drop down a size to XL. I ordered a pair of RS bibs in XL and a pair of MidZero Bib tights in the same size. I cant even get the RS Bibs on. Fortunately, the tights that came are XXL and they are a snug fit. So the bib shorts are going back for an exchange.

The only thing I have noticed is that the RS bibs are now made in Morocco, presumably by a subcontractor. My previous bibs were made in Vancouver, BC, Canada, which is Sugoi's HQ..

Bottom line, beware these shorts run a full small, at least in the larger sizes. My 4-star rating would have been a 5+ had the sizing been right.
Quick rundown: run slightly small, just slightly. (I'm 6' and wear 36 in pants - XL RS) Dear Sugoi: get rid of the elastic/gel grippers. Those are the ONLY complaints. Durable and bad to the bone chamois. I have 2 pair (so far) and these are my "go to" bibs for long hauls. I have some other brands and high-end models that are plenty good, but the RS is the way to go for mileage. I'm in Austin and these can beat the heat and the vents on the chamois are not a gimmick. The logos are some type of iron-on junk and won't make it 2 washes, but who cares? IF (and I doubt you will,) return them realcyclist is painfully simple and fast to work with. In the words of Arnold,..."Do it now!"
First I know this is not your fault!!!

I am so frustrated right now and I am trying to contain my language. So read every four letter word you can into this letter.

I know I have spent at least $1000.00 on bibs this year from your store. Most had to be returned.

Let's start with Sugoi. Last year I bought 2 pair of the RS bibs, one from your fellow store Huck N Roll and one from another place. (You only had one pair.) They were XXL and they fit correctly. This year I purchased 2 more pair of Sugoi RSE Bibs ( more expensive model) in XXL. They were huge. Now I just purchased the exact bibs, RS that I purchased last year and these are way too small!!!! I can barely get the shoulder straps over my shoulders, way too short. The legs are so tight I can't get them up high enough on the legs without almost tearing the bottoms.

The worst part of this I have to keep paying return shipment charges.

Please pass this on to the manufacture!
Well, I just ordered my next set of this model, after the previous one was ripped in a freak washing machine incident. And I did so without hesitation. These are outstanding.

After I raved about my first pair of RS shorts a couple of years ago, several of the guys have since bought RS bibs and every one of us now swear by them.

Good fit, as expected, good compression, excellent comfort and life.