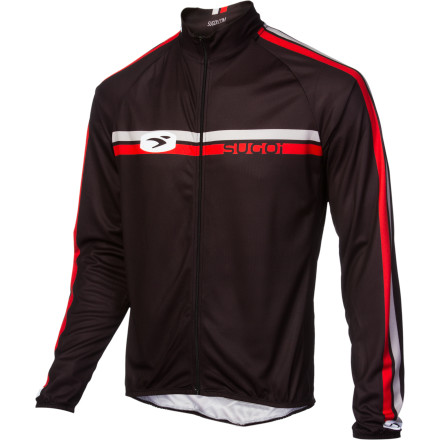 Detail Images
Cool weather can rob your body of strength and cause you to bonk early in your ride. The Sugoi Icon Jersey, worn alone or as a base- or mid-layer, pulls moisture away from the skin and helps the body regulate its temperature to keep energy levels high and performance at its peak.
Sugoi chose to use FinoTech 2.0 Fabric for the Icon Long-Sleeve Jersey. FinoTech 2.0 features a distinctive oval-pattern mesh that efficiently promotes airflow and manages moisture. Its medium weight makes it a versatile fabric for use in a wide range of temperatures. The soft, brushed inner layer pulls moisture away from the skin to create a warm, dry micro-environment, while the outer layer has a tougher, abrasion-resistant face.
As far as construction goes, the Icon Long-Sleeve Jersey is pretty traditional. The efficient Form Fit aids in moisture management and makes it easier to layer over the Icon. Four-way mechanical stretch provides a full range of motion without snagging. The 16 inch front zip makes it easy to get it and get out as well as allowing for quick temperature adjustments. The three back pockets expand easily to create extra storage space, and the signature hem gripper keeps the jersey from climbing up the back during a ride. The zip-up collar can be worn up or down according to preference.
The Sugoi Icon Long-Sleeve Jersey is available in sizes S-XXL and in two colors: White with Matador and Black trim and Black with Matador and White trim.