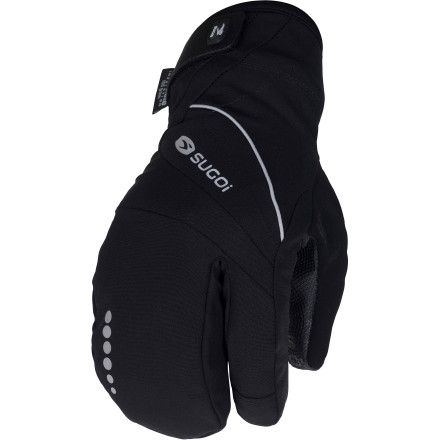 It's a glove, no it's a mitt … nope, it's the Sugoi Firewall Glove. For maximum warmth and dexterity, Sugoi combines the three outer fingers in a mitt, and lets the index finger have its own space for shifting gears, braking, or pointing at caribou. Insulated with G100 and G80 Thinsulate, the Firewall laughs at the coldest conditions. A comfy ergonomic fit, silicone accents that help with grip and durability, and reflective piping to aid with visibility are proof that Sugoi takes winter riding seriously.
I washed them.



Followed directions to a T.



Bad results ensued. The inner liner became irretrivably twisted. I've tried to fix them, my wife has tried...I've even tried to employ the tiny fingers of my daughter. No dice. You cannot get the index finger liner back to where it shoudl be...which renders them useless.



It was a good run while it lasted, but if you can't wash them according to directions, they're not so useful now, are they?
Unanswered Question
For my wife - her hands are cold now: 35...
For my wife - her hands are cold now: 35 degrees, no wind, Chicago area. We will cycle into the low 20's. She wears a medium - what size should she get (needs room for a liner).
Thanks,
Burt
Unanswered Question
These are for my wife. She wears a medium...
These are for my wife. She wears a medium and needs room for an liner. What size is best?
Burt
Water and Wind Resistant, Warm Gloves
Gender:

Male

Familiarity:

I've used it several times
I've had these for a few months and have started using them regularly. I have Reynaud's syndrome and suffer from very cold hands. The Sugoi gloves have done a good job of managing moisture and keeping my hands warm when cycling. I've used them with drop bars and flat bars on the bike, and they've been great. They are NOT waterproof, but do a good job of keeping you dry in light rain and wet conditions. I've used them down to high 20s in comfort. Much colder than that, and I think they'd start to get a bit TOO cold for road biking, but they might be ok for more physical mountain biking. At and above 40 or 45, they're too warm! The 3 finger design permits easy brake/shifter access, which is GREAT!
When I picked them up for the first time, they seemed too lightweight to be very warm. I was happy to find out that my judgments were grossly incorrect. These gloves block out the wind and cold and your fingers keep the other fingers warm. I haven't tested below 25 degrees yet. Southern Utah doesn't usually get that cold, but I think these gloves would still easily get the job done. Gear shifting takes a little getting used to, but it didn't bother me too much.
I love these gloves! They are super warm!