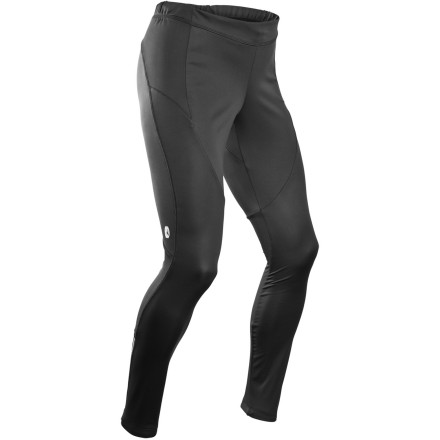 Detail Images
If you're anything like us, wintertime is an opportunity to engage in multiple outdoor activities. Sure, you'll spend a good amount of time freezing your ears off in the saddle, but snow shoeing, Nordic skiing, and trail running still beckon. This is why we appreciate versatility in our winter wardrobes, and it's also why you'll find the Sugoi Firewall 180 Women's Tights to be an invaluable asset. With no chamois, you're free to wear the Firewall 180 tights for anything that requires warming and comfortable element protection.
First and foremost, Sugoi designed the Firewall 180 tights to provide protection from the elements. So, given its multifunctional versatility, the natural fabric selection was a blend of Sugoi's Firewall 180 and Midzero materials. Firewall 180 is one of the lightest iterations of the Firewall series. Additionally, in comparison to other Firewall materials, it features higher levels of wind-resistance and breathability. And when combined with the mid-weight and highly-stretchable Midzero fabric, the tights benefit from a malleable, protective construction that's suited for everything from Nordic skiing to cycling.
And while materials are integral to protection, Sugoi knows that fit trumps all. Accordingly, the Firewall 180 features a multi-paneled, anatomic construction that's been cut on a contour. This ensures that the tights will conform to your body while it's in motion. Why is this important? Well, a typical tights' pattern is cut in the traditional pants form. And when your legs articulate at the knees, hips, ankles, and groin, this cut forces the fabric to work against you, inducing abrasion. However, with the Firewall's contour cut, abrasion is eliminated as you gain a complete freedom of movement. To secure the tights' precise fit, Sugoi included its signature elastic ankle grippers, a moisture wicking elastic waistband, and a stretch drawstring at the waist.
For easy entry and exit, the tights feature 10 inch locking ankle zippers. And to carry essentials like your keys or credit cards, Sugoi also included a rear zippered pocket.
The Sugoi Firewall 180 Women's Tights are available in the color Black and in four sizes from X-Small to Large.