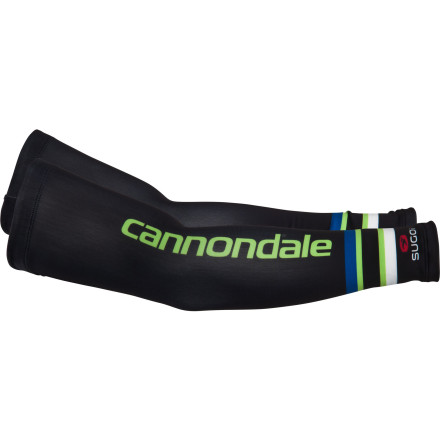 Just as a cycling cap and light gloves serve as staples in our late-season apparel rotation, a set of smooth arm warmers also work wonders at staving off the chill. The Sugoi Cannondale Pro Team Arm Warmers were designed specifically for these crisp days, when a little extra protection is all we need to keep us going strong out there.
Sugoi constructed its warmers out of a lightweight fleece-backed polyester and elastane blend. The polyester works to keep you warm by adding a thin layer of coverage against your skin. It also ensures that you stay dry and comfortable by pulling moisture away from your skin and transferring it to the quick-drying outer layer. Elastane was blended in to provide ample stretch — following your body's movements while in the cycling position.
The Sugoi Cannondale Pro Team Arm Warmers were finished off with light elastic grippers to keep them securely in place. They come in sizes Small through Large and in the color Black.
Share your thoughts
What do you think of the
SUGOi
Cannondale Pro Team Arm Warmers
? Share a...
Rounding out the kit. They look great and at $15 compared to $39 at my lbs I am very happy.