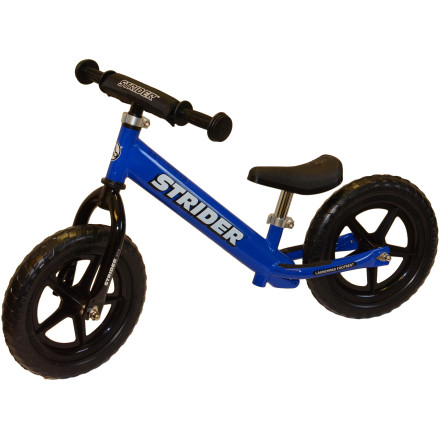 No pedals, no problem. When have you ever heard that in your life? Well, you would have heard it en mass had you been fortunate enough to grow up in the age of the Strider ST-3 Kid's Running Bike. And while it's too bad that there wasn't a bike like this for us to ride when we were 18 months old, your youngster is growing up in the golden age of the Running Bike. Say goodbye to training wheels, and say hello to fun in the dirt, grass, or wherever the little tike wants to roll.
The idea behind the Strider ST-3 is simple -- by eliminating the fussy bits of breakable, cumbersome components, children can pick up the essentials of cycling with ease. And by essentials, we primarily mean the hardest part of learning to ride -- balance. With the ST-3, Junior propels the bike forward with his feet, and because of the adjustable quick-release seat post, your child can keep their feet on the ground whenever they need to get stable. Eventually, after their balancing skills develop, they can kick up their feet onto the patented, integrated Launchpad Footrests. Simply put, there isn't an easier or safer way for your child to learn the basics of riding. That's why Strider recommends the ST-3 for ages ranging from as low as 18 months all the way up to 5 years.
And to make sure that you get the respect and awe of being Super Mom or Dad, the ST-3 requires the bare minimum of maintenance. Not only is there a tool-free assembly, but the EVA polymer tires will never go flat. The wheels also use a tirelessly durable one-piece design -- think of your coveted mag wheels as a kid. Basically, all that you ever need to do is adjust the quick-release handlebars and seat post to a comfortable height as your child grows.
For safety, the new Mini-Saddle is shaped to accommodate the tiny hips of your toddler. This provides better balance, and makes it a breeze for them to get on and off of the bike in a hurry. Strider also included a pad over the handlebars for a touch of added protection.
The Strider ST-3 Kid's Running Bike is available in one size and in the colors Blue, Green, Monster Jam, Orange, Pink, Red, and Yellow. Please note that Strider does not recommend the ST-3 for children under the age of 18 months or for children over the age of 5.