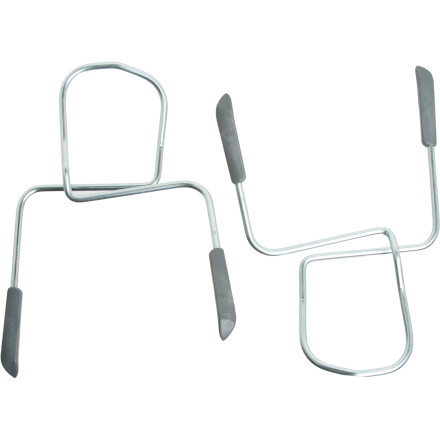 The 7tm Brakes come in handy for telemarkers spending lots of time in the resort, and with two width options (95 and 110mm) these telemark binding brakes will fit any ski in your quiver. Whether you need a little extra insurance on backcountry ridges or at the top of the freshly-groomed piste, the 7tm brakes keep your telemark skis in check when you aren't locked in. The 7tm Brakes are compatible with any 7tm telemark binding.
the 110 brakes are way too wide
I have 100 waist skis so I bought the 110 instead of the 90's, however they really are 145mm inside and the tips of the brakes are width of 178mm. They stick out a full inch in either side of my ski. It is crazy, they would drag in the snow in backcountry. Are they sized for snowboards? Now I'm stuck paying postage both ways. Guess I'll go back to ski leashes.
Unanswered Question
I have a k2 schi devil with a 78 cm waist....
I have a k2 schi devil with a 78 cm waist. There's a 83 cm brake for the 7tm, wouldn't that be better?
I have tele skis with a 79mm width in the...
I have tele skis with a 79mm width in the center and I would like to install brakes with my garmont 7tm bindings. I was wondering what size of brakes to purchase. I found some 83mm ones, and the next size up appears to be 95mm. I'm wondering if the 83mm would provide sufficient clearance, and/or if the 95mm would be too wide?

Any insight would be appreciated.

David
I think you'd be fine with the 83mm brakes.
The size of the brake, the waist size of your ski, and the size of the ice crampon are all interrelated. Read carefully before ordering.

Garmont underestimated the popularity of the 70mm brake (??!) and anything larger requires the next larger crampon. Don't buy oversized.

Oversized parts will mean having a brake arm and a sharp crampon sticking way out of the sides of your skis. At least it would be mashing up your expensive boots. Worse, it could injure you.

Another discovery: Standard leashes are too short for my setup, I had to extend them by about 3 cm (an inch).